PerHeadWagering.com Sportsbook Pay Per Head Review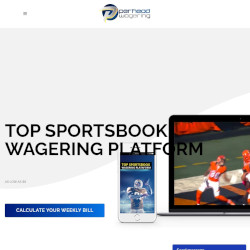 PerHeadWagering.com wants to believe that they are one of the top pay per head providers today. Thus, we checked what they offer and created a PerHeadWagering.com Sportsbook Pay Per Head Review.
When searching for a PPH solution that can help grow your sportsbook business, one of the providers you'll find is PerHeadWagering.com. They cater to both big and small-sized bookie businesses. Also, they promise to provide great value for your money.
​
Thus, we tried their bookie PPH services. Our goal is to find the pros and cons of using their services. One thing we liked about PerHeadWagering.com is that its website has all the information regarding its pay per head solutions.
INFO ABOUT PERHEADWAGERING.COM PAY PER HEAD SERVICES
General Information
Inception: 2017
Software: DGS
Price: $12 or less
Contact: info@perheadwagering.com
Telephone: 1-888-409-6299
Website: perheadwagering.com
Location: Costa Rica

Private Toll-Free Number Available: yes
Private Website: Yes
Current Promotion: 2 Week Free Trial
Types of Gambling Available
Sports Betting: yes
Live In-Game Betting: yes
Online Casino: Yes,
Racebook: yes
Live Casino: yes
Poker Room: no
Online Wagering Available: yes
Telephone Wagering Available: Yes
Mobile Platform Available: Yes
Player Bonuses Available: Yes
The PerHeadWagering.com Registration Process
To start with PerHeadWagering.com, you only need to fill out the form. Also, you can create an account by contact time via their hotline. Lastly, you can register through email. Although it offers two weeks free, the provider requires a deposit first.
You can set up the players via phone or online. Also, you can set the betting limits, profiles, and rules. In addition, you can use one of the seven default profiles for players. The provider can also help in building the sports betting site. You can also opt for one of the default sites.
PerHeadWagering.com Sportsbook Pay Per Head Review
PerHeadWagering.com will provide sports betting specialists who can assist you through the process from start to finish. That way, you can also avoid common sports betting mistakes.
You can set up agent profiles and billing cycles if you are a white-label operator. In addition, the PPH service allows you to create pricing models with full-suite services.
The provider also has an affiliate marketing service that allows bookies to start earning when people sign up via a link on the sports betting site. Also, the affiliate software will monitor the signup and the commissions you make over time.
PerHeadWagering.com Player and Agent Software Review
The agent software allows bookies to personalize player profiles. Also, it provides the tools and features that minimize risks while optimizing profits. It is easy to use, and you can access the information needed to make intelligent decisions.
The dashboard comes with a live bet ticker. It shows players' wagers as they are made. In addition, the software will message you via email when large bets are placed. Other automated reports include daily, and weekly balances, agent wager positions, real-time wagers, agent hold percentage, and player wager history.
You can use the agent software to personalize players' limits, teaser options, and parlay payouts. In addition, you can open and close accounts when needed.
When we tried the demo, it was similar to ABCPerHead.com. Thus, we can conclude that PerHeadWagering.com is a skin for ABCPerHead.com. They have the same rates that start at $12 per head for up to 50 players. The rate goes down to $8 if you have more than a hundred players.
However, PerHeadWagering.com also charges extra for additional features such as in-play wagering and mini blackjack. Live wagering, online casino, and horse racing come with the basic package.
If you have ten active players, three of them using in-play betting and one playing black jack, you will pay an estimated $186 per week. That's too expensive. If you use PricePerPlayer.com, you will pay $5 or less. Plus, there are no additional fees for live betting and live casinos. As a result, you only pay $50 per ten active players a week.
Our Opinion and Recommendation
Based on our experience with PerHeadWagering.com, we can't recommend it to bookies. It is too expensive, and they have too many addons. Although they are transparent with their fees, you can find other providers that offer the same services and more at a more affordable rate.

If you are looking for a top PPH service, take a look at our list of the best Sportsbook Pay Per Head providers. These are the Highest rated services according to our Sportsbook Pay Per Head Reviews.

PerHeadWagering.com
Average rating:
0 reviews