9DollarPerHead.com Sportsbook Pay Per Head Review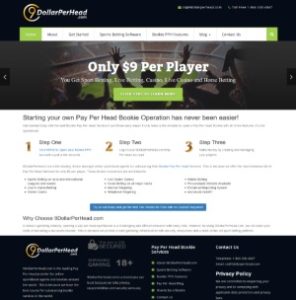 9DollarPerHead.com is a name in the Pay Per Head business that is synonymous with quality. This is because they have an excellent Bookie Software and also have the best customer service in the business. Our 9DollarPerHead.com Sportsbook Pay Per Head Review will review the advantages and disadvantages of using their Pay Per Head services.
This company has been in business since 2012 which is when Sportsbook Pay Per Head solutions became popular amongst bookies. Thus, they are by no means a pioneer in the PPH industry but certainly have made the most progress in terms of quality and efficiency. This is due to having professional bookies, knowledgeable customer service reps and lines manager as part of their support staff.
Furthermore, they use several back-up servers and encryption technology to ensure 99.9% server uptime and state-of-the-art security.
INFORMATION ABOUT 9DOLLARPERHEAD.COM PAY PER HEAD SERVICES
General Information
Inception: 2012
Software: DGS
Price: $9
Contact: cs@9dollarperhead.com
Telephone: 1-866-500-4847
Website: http://9dollarperhead.com
Location: Costa Rica

Private Toll-Free Number Available: yes
Private Website: Yes
Current Promotion: 2 Week Free Trial
Types of Gambling Available
Sports Betting: yes
Live In-Game Betting: yes
Online Casino: Yes,
Racebook: yes
Live Casino: yes
Poker Room: no
Online Wagering Available: yes
Telephone Wagering Available: Yes
Mobile Platform Available: Yes
Player Bonuses Available: Yes
The 9DollarPerHead.com Registration Process
Registering for a Bookie Pay Per Head Agent account with 9DollarPerHead.com is fast and easy. Unlike other companies, they do not need a lot of information to open an account.  In addition, they do not even ask for personal information which makes your sportsbook operation totally private.

Once you fill out the registration form, it only takes a few seconds before you can login to your PPH account. This is because the entire process is automatic and does not require any type of sales interaction.  Of course, if you need any help during the process, they have a handy live chat window to assist you.
One of the things we like the most about the 9DollarPerHead registration process is that no deposit is necessary.  This is because they do not start charging you until your 2 week free trial is over. Thus, you can start your bookie operation right away!
9DollarPerHead.com Sportsbook Pay Per Head Review
Let' start the 9DollarPerHead.com Sportsbook Pay Per Head Review with the price per player. In terms of pricing, they charge $9 per player which is just a little bit better than the average sportsbook PPH.  However, when you consider that the price includes live in-game betting, live casino and phone wagering, it is a bargain.
This is because most PPH companies charge $10-$12 per player but you have to pay extra to get these features. We were a bit skeptical about the price and thought they would start charging us extra after the free trial. In the end, it was a pleasant experience because the rate did not change.  Thus, 9DollarPerHead.com is a straight shooter and does not resort to bait and switch like many PPH providers use.
9DollarPerHead.com Player and Agent Software Review
The 9DollarPerHead.com backend is by no mean the prettiest and most eye catching Pay Per Head management platform. However, it does everything it promises to do and more in an easy to use and understand format. This is because it it is easy to navigate through the management and reporting menu.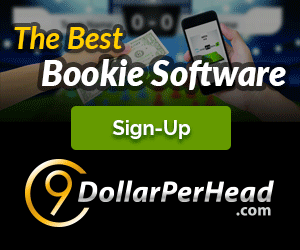 Want to add a player, not problem, just click on the "Player Management" tab and click on add player. Need a report for a specific player or time period, simply click on "reports" and use one of the filters.  Thus, we like the simplicity of their bookie software and that no explanation or tutorial is necessary to use it.
Furthermore, you have a lot of control over your players.  You can control their wagering limits and even enable/disable access to the online casino, sportsbook, live casino and racebook.  In addition, you can even give players bonuses, and give them credit if you want to run a credit shop. Of course, if you run a post-up operation, then you can easily keep track of their deposits and withdrawals.
Bettors have several websites they can use to place their sports bet, play casino games or bet on horses. I like that each sportsbook website they offer has something for everyone.  Some of these sites have the usual sportsbook theme while others have a simple login screen and nothing else. In addition, you can also choose to have your own personal website made to your specifications.
The sports betting bookie software, is pretty good as the sporting events menu is pretty easy to read and follow. They have hundreds of different national and international sports leagues for players to choose from. Thus, your players will pretty much be able to bet on anything they want.
Our Opinion and Recommendation
9DollarPerHead.com is one of the best sportsbook pay per head provider in the industry. They not only provide a quality sports betting platform but also have the BEST customer service. You cannot go wrong by using their service.
In truth, you will find some Pay Per Head that are cheaper and offer more or less the same value.  However, they are a solid organization and you really do get your money's worth.  This is because you get a full live betting interface at no extra cost along with telephone wagering and a live dealer casino.
If you are looking for a top PPH service, take a look at our list of the best Sportsbook Pay Per Head providers.

If you are looking for a top PPH service, take a look at our list of the best Sportsbook Pay Per Head providers. These are the Highest rated services according to our Sportsbook Pay Per Head Reviews.

9DollarPerHead
Average rating:
1 reviews
Mar 25, 2019
I use them
I started out my sportsbook with them. I have only been a bookie for two years but they have helped me a lot. Their software took a load off my back and its very easy to use. Would definitely recommend.