PricePerPlayer.com Sportsbook Pay Per Head Review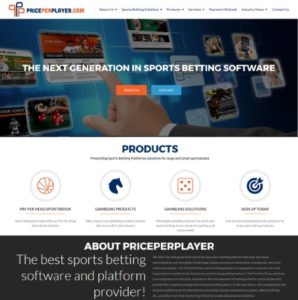 If you are looking for the best sportsbook pay per head provider, PricePerPlayer.com is it. This sports betting software company has been around since 2013 and has become the king of the PPH industry. This is because they are known for providing quality service at a very affordable price. Our PricePerPlayer.com Sportsbook Pay Per Head Review will go into details about the pros and cons of their PPH services.
Their sportsbook pay per head service gives their clients the ability to easily operate a small or large gambling operation. In addition, they have a 99.9% server uptime according to their latest reports and also boast an extensive backup system.  Additionally, they have a state-of-the-art data center which has:  Generator backup, an advance firewall and several layers of security.
In addition, they are one of the only services that offers their bookie PPH service to the Asian Gambling Market.  This is because their player betting platform and agent platform is available in Chinese, Korean, Vietnamese, Filipino and Japanese.
Last Update
04-08-2022 – PricePerPlayer.com opens a satellite office in Venezuela to increase their presence in South America.
04-05-2021 – Pay Per Head Price changes where cost is $5 or less depending on the number of active players by the bookie
02-13-2020 – PricePerPlayer.com added a Prop Builder for players where they can create their own proposition bet.  Thus, their ranking went up a bit.
03/28/2019 – PricePerPlayer.com is now more user friendly with additional options to their sportsbook pay per head platform.
03/12/2019 – PricePerPlayer.com has made a slight improvement with their sports betting platform reports.  Agents now have more filtering options.
01-20-2019 – PricePerPlayer.com lost a bit of ranking because of a minor customer service issue with them taking over an hour to respond to a client.
INFO ABOUT PRICEPERPLAYER.COM PAY PER HEAD SERVICES
General Information
Inception: 2013
Software: DGS
Price: $5 or less
Contact: cs@priceperplayer.com
Telephone: 1-877-386-0180
Website: http://priceperplayer.com
Location: Costa Rica

Private Toll-Free Number Available: yes
Private Website: Yes
Current Promotion: 2 Week Free Trial
Types of Gambling Available
Sports Betting: yes
Live In-Game Betting: yes
Online Casino: Yes,
Racebook: yes
Live Casino: yes
Poker Room: no
Online Wagering Available: yes
Telephone Wagering Available: Yes
Mobile Platform Available: Yes
Player Bonuses Available: Yes
The PricePerPlayer Registration Process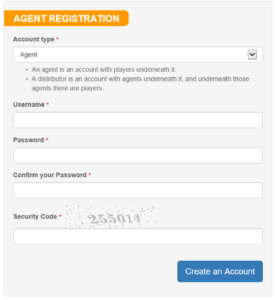 One of the advantages of using the PricePerPlayer.com Sportsbook Pay Per Head Service is that almost everything is automated. This also includes the registration process for opening an account with PricePerPlayer.com.
In addition to being automated, we loved that they do not ask for any personal information.  The only thing they ask is for the type of account you want, username and a password.  We were amazed that they did not even ask for an email address.
Once you have submitted the form, your bookie PPH account is automatically created and can immediately login your account.  Once your two weeks trial is over, you will receive message on your agent dashboard with the amount you owe. They are several ways to make a payment which include Paypal and Bitcoin according to their PPH software tutorial.
PricePerPlayer.com Sportsbook Pay Per Head Review
There are not enough good things we can say about this sportsbook pay per head provider.  The company website is impressive; however, the agent website not as much when you first look at it. Our opinion quickly changed to the positive when we started using their sportbook PPH platform.
In terms of cost, they offer a better deal at $5 per player when compared to the average industry prices at $5.  In addition, this is a flat rate with no hidden fees because you get access to all of their services.  These services include but not limited to: sports betting, live betting, online casino, live dealer casino racebook and phone wagering.
PricePerPlayer.com Player and Agent Software Review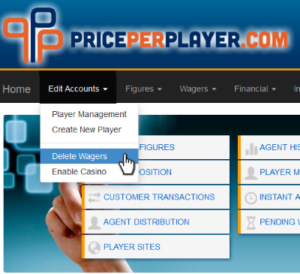 Our initial opinion of our PricePerPlayer.com Sportsbook Pay Per Head Review is that the PricePerPlayer.com agent software interface is excellent. The agent dashboard looks clean and is easy to navigate thru.  In addition, the dashboard gives you at a glance all of the latest information about your gambling operation.
In terms of player management, adding, editing and managing players is fairly easy to do with their Sportsbook PPH platform.  Everything is self-explanatory so you don't even need to look at their bookie PPH tutorials. It's just a matter of checking and clicking the right buttons. Generating player(s) or wagering report is also quite simple.
In addition, sports bettors now have the option to create their own proposition bet.  This is thanks to their Prop Builder tool which lets players create any type of prop bets they want!
For the players, they have an excellent sports betting ticket interface.  Even though we have seen better looking interface, we are not complaining because it is easy to use and understand.
One of the aspects we like is that you are able to add more players without having to contact customer service.  In addition, you can also add as many agents to your account as you want.
Our Opinion and Recommendation
After using the PricePerPlayer.com Sportsbook PPH service, we are confident that this is the best PPH provider on the market.  In addition, we would recommend them to any gambling operator looking for a great service at an affordable price.
Today's PPH Industry has a lot of competition and we all agree that PricePerPlayer.com blows away the competition.  As a result, offer the best value for your money and have an outstanding customer service department. We even looked for other Sportsbook Pay Per Head reviews and found that PricePerPlayer.com had great reviews everywhere else.
If you are looking for a top PPH service, take a look at our list of the best Sportsbook Pay Per Head providers.

If you are looking for a top PPH service, take a look at our List of the best Sportsbook Pay Per Head providers. These are the Highest rated services according to our Sportsbook Pay Per Head Reviews.

PricePerPlayer.com
Average rating:
8 reviews
Mar 17, 2023
Comprehensive PPH Services
If you are looking for a reliable and affordable pay per head service, you might want to check out PricePerPlayer.com. They offer a complete sports betting solution for only $5 or less per player. You can get access to a sportsbook, live betting, online casino, racebook, and more with just one account.
Apr 29, 2022
Since Pandemic
I signed up with them at the start of the pandemic and I was probably the best choice I made. I made money from home without any worries about catching the virus.
Mar 23, 2021
Great bookie software
3 years of smooth sailing. I swear, I have not even tried out their customer service since I've nothing to complain about. 5 starts to the best bookie software I've used!
Nov 11, 2020
Love this software
I have been using this Price Per Player software for quite some time now and I really have no complaint. Only had to call customer service twice maybe and both of those times they helped me asap. Great service, great product.
Feb 23, 2019
my players are all happy with the site so I am happy too. great pph and very affordable, even though quality is high-end.
Feb 9, 2019
Love them
I have been using them for over a year, and I am very happy with their service. Their site is very easy to use.
Jan 31, 2019
Better then expected
Tried them out a few months ago because they ha the best prices but was skeptical about the quality of the services. I was proven wrong as they have a great sportsbook software that is easy to use. My players love their sites and I love their services as it even has live betting and live casino at no extra cost!!!
Sep 18, 2018
a notch above the rest
been a bookie for over 2 decades and tried about 5 different pph services in that period of time. out of all of them, I think that have the best price for the service you get. not saying they are perfect as they could use some work with their mobile apps for managing my players but other than that 2 thumbs up