RDGCorp.com Sportsbook Pay Per Head Review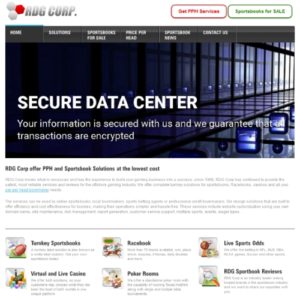 RDGCorp.com was established in 1996 and is one of the older Sportsbook Pay Per Head Providers on the market. In addition, they also run and operate several know online sportsbooks like AmericasBookie.com and 1Vice.ag. In our RDGCorp.com Sportsbook Pay Per Head Review, we will try them and rate their products and services.
RDG Corp also operates several other Sportsbook Pay Per Head Services like RealBookies.com and A1PPH.com. In addition to their PPH services they also sell gambling websites and offer white label gambling solutions. Their services can be used by online sportsbooks, bookies, sports betting agents and anyone looking to start a gambling operation.
According to their website, some of the services they offer as a Bookie PPH provider include: website customization using your own domain name and site maintenance.  Furthermore, their sportsbook software offers risk management, report generation, customer service support, multiple sports, events and wager types.
---
Last Update
03/30/2019 – RDGCorp.com lost ranking because several bookies made reports about their website being slow during peak betting hours.
RDGCORP.COM RATING DETAILS
---
Agent Interface Rating:

8.2 out of 10

Player Betting Platform Rating:

7.6 our of 10

Cost of PPH Rating:

8.0 out of 10

Reporting:

8.5 out of 10

Customer Service:

8.0 out of 10
TOTAL RATING: 8.06 out of 10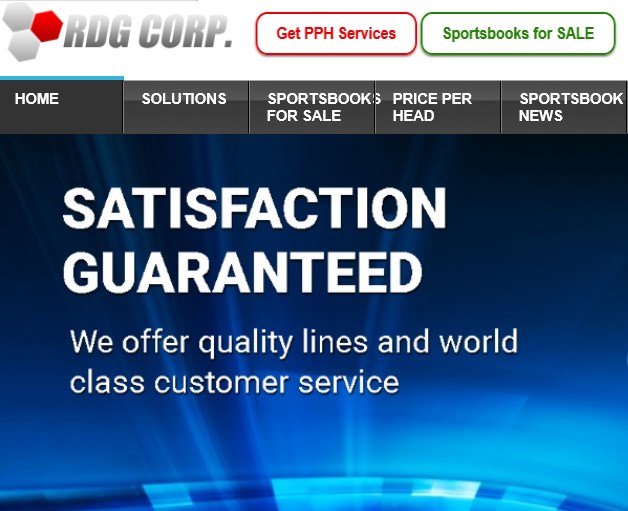 INFORMATION ABOUT RDGCORP.COM PAY PER HEAD SERVICES
General Information
Inception: 1996

Software: DGS and ASI
Price: $10 and Up
Contact: info@rdgcorp.com
Telephone: 1-888-274-7630
Website: www.rdgcorp.com
Location: Costa Rica

Private Toll-Free Number Available: yes
Private Website: Yes
Current Promotion: 2 Week Free Trial
Types of Gambling Available
Sports Betting: yes
Live In-Game Betting: yes
Online Casino: Yes,
Racebook: yes
Live Casino: no
Poker Room: no
Online Wagering Available: yes
Telephone Wagering Available: Yes
Mobile Platform Available: Yes
Player Bonuses Available: Yes
The RDG Corp Registration Process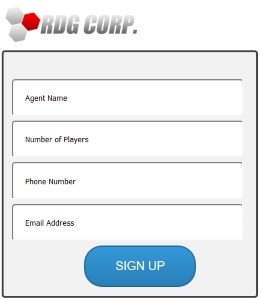 Opening a Sportsbook Pay Per Head account with RDG Corp is simple and fairly straightforward. This is because they only ask four questions which are pertinent to setting up the account. Even though the registration process is not fully automated like other Bookie PPH providers, it is still fast and efficient.
In addition, we liked that they kept the questions to a minimum in terms of personal information.  This is because even though betting on sports is legal in certain states, anonymity is important in this industry.
We received an email with our login info just a few minutes after submitting the registration form. The email basically welcomed us and told us about our two weeks free trial.  Furthermore, we also received information about the PPH payment options for their services.
RDGCorp.com Sportsbook Pay Per Head Review
At first glance, we would have never used PPHintl.com because their website has not been updated in a long time.  That or it was done by the owner's teenage son in order to save a couple of bucks. However, once we logged in the agent website, it was a totally different story.
For the cost, they seem to offer industry standard prices at $10 per head.  However, keep in mind that there is extra charge if your players place their wagers by telephone.
In addition, they employ some of the best IT tech in the industry and a crack team of customer service agents. PPHintl.com prides itself in offering a full sportsbook software that is competitive enough to take on the big gambling operations.
RDGCorp.com Player and Agent Software Review
As soon as we received out login information, we were able to create and edit our players right away.  At first glance, the agent management website looks organized and easy to use. In addition, the option to create and manage players is easily accessible.  We mention this because we have been on websites where it was a struggle to find the player management dashboard.
When it comes to cost, RDGCorp.com is somewhat competitive because they offer the rates of $10 per player.  However, we were disappointed that they have an extra charge added when a player uses the phone wagering services.
Overall, we were pleased that the $10 per player gives you access to every products and features they have available.
RDGCorp.com Player and Agent Software Review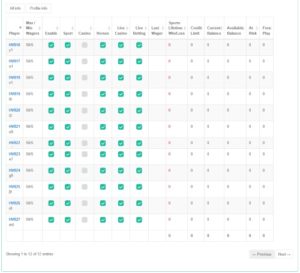 As we mentioned earlier, we like the agent interface because it is clean and it is easy to navigate thru it. Also, the main dashboard gives you the latest player and wagering stats which is a nice feature to have.
When it comes to creating and managing your players, it can be a simple or complicated based on your preferences. This is because you can create a player with just a player number and their wagering limits. The other way is to add more details to a player like name, contact info, notes and gambling access.
In addition, we like that they offer a full reporting system because it allows for better risk management. Their sports betting software allows you to generate a report for pretty much anything.  If you want to see betting patterns from a player, it will generate a report for that.  If you want to see overall statistics for specific sports you can also get a report for that.
For the player, the generic betting website is decent as it allows players to easily login and place their bets. However, if you want a website with a bigger impact, you also have the option to have your own website. In short, our players thought the betting platform was decent and did the job correctly.
Our Opinion and Recommendation
If you are looking for a solid Sportsbook Pay Per Head service, RDGCorp.com is a decent choice.  It is not our top choice because of their higher prices but you will not be disappointed by using their services.
In addition, we only had two small rants about their PH service.  The first is the extra cost for phone wagering which part of their basic package for most PPH Services.  The last was that their lack of a live chat which is handy to have when you have a question.

If you are looking for a top PPH service, take a look at our list of the best Sportsbook Pay Per Head providers. These are the Highest rated services according to our Sportsbook Pay Per Head Reviews.

RDGCorp.com
Average rating:
1 reviews
Apr 1, 2019
SLOW SITE! Not good when you get to the finals of anything if the site will lag and my players will complain.