PPH Sportsbook Football Betting Markets
Your online sportsbook needs a plethora of football betting markets to compete.
Key Points
– Sportsbook software offers traditional football betting markets as well as several others.
– PPH sportsbooks offer a number of advantages over traditional sportsbooks.
In the world of online sports betting, pay per head (PPH) sportsbooks are becoming an increasingly popular option for bettors. This is because PPH sportsbooks offer a number of advantages over traditional bookmaking models.
Including better odds, more betting options, and a wider range of customer service features. In addition, PPH sportsbooks are perfect for football betting, as they offer a wide variety of markets on which to place bets.
Football Betting Markets
If you're a fan of NFL football, then you know that betting on the games is a huge part of the experience. But if you're new to betting on football, it can be difficult to know where to start. Next, we'll take a look at some of the most popular NFL football betting markets.
Point Spread Bets
The point spread is probably the most common type of bet in NFL football. This bet is simply a wager on which team will win the game, but with a point spread added.
For example, let's say the New England Patriots are playing the Miami Dolphins. The Patriots are favored to win by 7 points, so if you bet on them, they would have to win by 8 or more points for you to collect your payout. If they only win by 7 points, then the bet is considered a "push" and you get your money back.
Moneyline Bets
A moneyline bet is very simple: you just bet on which team will win the game outright. There is no point spread involved; the only thing that matters is who wins the game. Using the example above, if you like the Patriots to win you simply place your wager on New England. If the Patriots win – no matter the score – you win.
Totals Bets
In the world of NFL football betting, bettors can choose to wager on the total, or place an Over/Under bet. In this type of wager, you simply predict whether the combined score of both teams will be higher or lower than the set total.
For example, if the total is set at 42 points, and you think that the two teams will combine for more than 42 points, then you would place an "Over" bet. If you think that they'll score less than 42 points, then you would place a "Under" bet.

Pay Per Head Sportsbooks – Football Betting Markets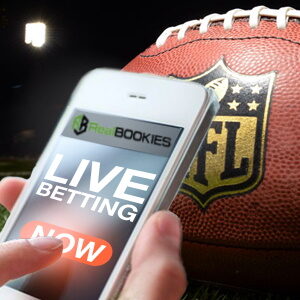 The best pay per head sportsbooks in the industry provide these traditional bets. But also provide a large number of other NFL markets. PPH services are well-known throughout the industry for offering a wide range of bets across all sports. Football is one of them.
A typical PPH provider will offer team and player props, exotic bets like parlays and teasers, live bets, and much more. This football season is going to be like no other in the history of sports betting.
Pay per head sportsbooks also offer several advantages over traditional sportsbooks. NFL bettors will find better odds along with the larger selection of bets. The customer service features are also among the best in the industry. A pay per head service has its very own customer service element. Highly trained and knowledgeable staff can take care of any issue.
Bettors can call, text, online chat, or email with any issue from something financial to a problem with a bet. The customer service team will solve the problem quickly and efficiently. It's another of the many advantages of pay per head sportsbooks.
NFL Betting – For All Bettors
Many people think that NFL betting is only for experienced bettors, but that is not the case. Novice bettors can also get in on the action by using simple betting strategies. In fact, using these strategies can help novice bettors become more successful at NFL betting and improve their chances of winning.
NFL betting is a great way to add excitement to the football season and make some extra money. However, if you want to be successful at NFL betting, you need to use the right strategies. One simple strategy is just to bet early.
NFL Betting Strategies – Bet Early
Placing NFL Bets early has several advantages over waiting until later in the week. The most obvious advantage is that you have more time to research and analyze the matchups. This gives you a better chance of making winning bets.
Another advantage of betting early is that the odds are usually better. Sportsbooks know that people who wait to bet until later in the week are often desperate to find a winner, so they adjust the odds accordingly. By betting early, you can take advantage of these softer lines and increase your chances of winning.
Live Betting
Live betting, also known as in-game betting, is a growing trend among NFL fans. This type of betting allows bettors to place wagers on games as they are being played.
There are several reasons why this type of betting is so popular. First, it allows bettors to get in on the action as the game unfolds. Additionally, it provides more opportunities to make money, since there are more chances to win bets as the game progresses. Lastly, live betting can be more exciting than traditional wagering methods.
Live betting is another feature that pay per head services offer bookies. Since it is a growing trend, live betting is something that is a must for a sportsbook. Bettors will find in-game betting at just about any PPH sportsbook in the industry. It's a must-have and sportsbooks that don't offer live bets find out quickly as bettors look for other betting sites as an answer.