NFL AFC East Betting – Bills or Patriots Taking Action?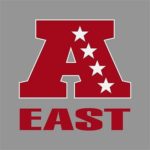 AFC East is up for Grabs This Season
When was the last time someone besides the New England Patriots won the AFC East? We have to go all the way back to when "Brangelina" was a thing, 2008. The Miami Dolphins went 11-5, and that year Tom Brady tore his ACL in Week 1. Before that? More Patriots dominance dating back to 2003.
With Brady gone, we came into the season with a different perception of the Pats' odds to win the AFC East. Without the G.O.A.T. under center, the offense outside of Julien Edelman looked pedestrian.
Meanwhile, the Buffalo Bills proved it had a defense and a growing passing attack. But then the Pats signed Cam Newton, and after two weeks of football, the Bills odds to seal the division are far from guaranteed.
Cam Newton Makes Pats AFC East Contenders
Although Newton came up short 30-35 in a Week 2 loss, the primetime battle with Russell Wilson and the Seattle Seahawks sent Twitter ablaze with talk of how the Patriots may have been gifted a top-10 QB for peanuts.
Newton looks like his old Superman self through two weeks. Cam has averaged 226 passing yards and 61 rushing yards. He's thrown five touchdowns and just one interception. The result is a 28-point average for a team that posted 26.3 points in 2019 with Brady.
The impressive two-week debut has moved the Patriots to +120 AFC Championship odds. Although they had some players opt out of the 2020 season, the Pats bring back most of their impressive defense that led the league in points against, 14.1, in 2019.
On offense, the shifty Edelman has proven to have some pro-bowl juice left at wideout with an eight-catch, 179-yard performance against the Seahawks. But Newton has to be around to throw it to him. If he goes down, the offense quickly stagnates as the Pats lack explosive playmakers outside of Edelman and Cam.
Head coach Bill Belichick hasn't been scared to use Newton's running ability. Cam has rushed 26 times in two games – more than any of the roster's running backs. In the past, Newton's style as a rocket-armed RB has put him in harm's way. If he can hold up, the Patriots should compete for the division crown all year; if he goes down, things could derail quickly.
Important Patriots' Matchups
Week 4 – October 4, 2020, @Kansas City Chiefs:Newton and New England came up short against one obvious MVP contender. He gets another shot when he faces Patrick Mahomes Sunday afternoon.
Week 8 – November 1, 2020, @Buffalo Bills:The Pats get a chance to put a dent in the Bills' AFC East plans in a key division matchup.
Week 16 – December 28, 2020, vs. Buffalo Bills:If the Patriots stay in the mix all year, this late-season contest is guaranteed to be a deciding factor for the AFC East crown.

Buffalo Bills Show Promise Behind QB Josh Allen
After two weeks, nobody can deny Allen and the Bills are exceeding expectations. Josh recorded his first-career 300-yard passing game in Week 1 then followed it up with his first 400-yard passing game in Week 2. The combination has kept the Bills as -125 favorites to win the AFC East.
In the past, the Bills were a defensive squad that had to play the time-management game to win and cover. But with Allen displaying ascending quarterback skills, the sky's the limit if the defense remains steady.
The improved passing attack could be attributed to the addition of wideout Stephon Diggs. Through two weeks, Diggs has 17 receptions for 239 yards and a touchdown. But Allen has done a great job in spreading the wealth to Josh Brown and Cole Beasley. Shockingly, the only cause for pause in Buffalo is whether the defense can hold up all season.
In two division battles versus the New York Jets and Miami Dolphins, the usually sturdy Bills D gave up 17 and 28 points. Although division battles can circumvent records and talent, it's a concern that two of the worst rosters on paper coming into 2020 were able to score more than 10 points on a defense that allowed less than 20 league-wide in 2019.
The result is a 1-1 ATS record thus far and a surprising 2-0 over the total. If the D adjusts, the Bills won't require 400-yard performances from Allen to dethrone the Patriots for the first time since the Obama administration.
Important Bills Matchups
Week 6 – October 15, 2020, vs. Kansas City Chiefs: The Bills have four days after facing a tough Tennessee team to get ready for the reigning Super Bowl champs. An upset here is guaranteed to increase their AFC East odds.
Week 8 – November 1, 2020, vs. New England: Coach Belichick will have plenty of tape on the new-look Bills offense by midseason. Expect a chess match.
Week 10 – November 15, 2020, @ Arizona Cardinals: We outline this game as it follows a home stand versus New England and Seattle. If the Bills somehow beat all three, they'll be in a position to wrap up the AFC East.
Watch for wagers on the Buffalo Bills
The AFC East odds on this one are close for a reason. On the one hand, you have a Bills team who is solid on both sides of the ball. On the other, you have a rejuvenated Cam Newton with a coaching guru in Belichick.
The odds lean Buffalo as they seem more capable of weathering any major injuries or let downs this year. Make sure to use pph bookie software to manage wagering on the Buffalo Bills. If for some reason, more wagers fall onto the Patriots, use the same sportsbook software to adjust odds on Cam Newton and New England.