SportsInsights.com Sports Betting Software Review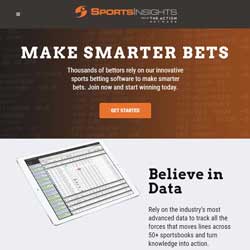 ​SportsInsights.com is a sports betting analytics platform that provides sports wagering information services. It offers several services. However, our SportsInsights.com sports betting software review will focus on its sports wagering platform.
The company was founded in 1999 by a diverse group of professionals from various industries. Their sports betting software works with all devices and platforms.
Their goal is to help players make better decisions. They provide the tools sports bettors need to make sports wagering easier. 
That's why players use their software. However, it is very expensive and beyond the budget of the casual players.
INFORMATION ABOUT SPORTSINSIGHTS.COM
General Information
Inception: 1999
Address: Massachusetts
Country: USA
Telephone: 877-838-2853
Email: help@sportsinsights.com
Website: www.SportsInsights.com
Services and Products
Real Time Odds Updates
Public Betting Percentages
Sharp Action Report
Bet Labs
Player Props Tool
Best Bet Picks
SportsInsights.com Sports Betting Software Review
SportsInsights.com offers live odds feed for sports events and sportsbooks. Also, members get exclusive information to help them beat sportsbooks. Some details provided by the software include line movement, weather, injuries, and percentage of wagers placed on both sides.
It offers Premium and Pro membership tiers. The Pro tier has all the features of the lower-priced Premium, with the addition of sharp money alerts, steam, and best bets. Also, you gain access to the smartphone app, betting trends, and more.
After signing up for an account, you gain access to all the features right away. However, the numbers might be hard to understand if you are just a casual sports fan. The app caters to serious sports betting players who want to improve their winning rate. Also, they are the ones who can afford to pay at least $149 per month.
Software Features
One of the sports betting platform features is the Line Watcher, which is available for Pro-Tier users. It allows the user to see where the line is at any moment. Another Pro upgrade is Bet Labs. It is for people who want to make their betting systems.
Our Opinion and Recommendation
In a competitive industry, having the right tools can help improve your winning rate. However, paying for the SportsInsights.com software each month will eat up your winnings in no time. It is not for casual sports betting fans. Instead, it caters to people who wager hundreds of dollars each month. Please read our other sports betting software reviews to find out more about other sports wagering tools on the market.
If you want to start a sportsbook, you should consider using Bwager.com.
SportsInsights.com
Average rating:
0 reviews