Louisiana Fantasy Sports Betting Nears Passage
Forty-seven parishes in Louisiana wanted to have legal fantasy sports betting. It took almost two years for the Louisiana fantasy sports betting to pass. Sports betting might also suffer the same fate because the proposed bills don't provide the rules. It only asked to be placed in November's ballot.
In 2018, almost 75 percent of Louisianians voted to make fantasy sports legal in their parishes. However, they need to wait for nearly two legislative sessions for lawmakers to pass regulations. The House and Senate couldn't agree on the rules and taxes for fantasy sports.
Lawmakers couldn't reach a compromise, and the fantasy sports betting regulations went down along with the proposed sports betting bill. Lawmakers revived the proposed rules during this year's session, and the senators added them into a bill by Representative Tanner Magee.
Louisiana Fantasy Sports Betting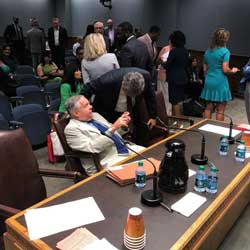 The good news is that the Senate finally voted 31-3 for the fantasy sports betting rules. However, the proposal still needs the House's approval before it can go to the governor's office for the final signature.
Fantasy sports allow people to create teams based on real-life players and their statistics. The points will depend on how the players perform in the games. Based on a software sportsbook guide, FanDuel and DraftKings charge an entry fee and give out prizes to winners.
According to pay per head sportsbook reports, the rules include that fantasy sports operators need to apply for a license from the Louisiana Gaming Control Board before they can operate in the state.
Also, individuals need to be at least 21 years old to participate in daily fantasy sports contests. The teams can't use players in youth sports events or high school. However, lawmakers failed to set tax rates for fantasy sports betting revenue.
If you want to be a successful bookie, make sure you read the rules regarding fantasy sports betting in Louisiana. That way, you'll know that you are operating within the law.