Update on the NBA All Star Weekend Winners
It is an exciting weekend for basketball fans across the globe. The National Basketball Association held its All-Star celebrations from Friday to Sunday in Chicago. Here is a breakdown of the NBA All Star weekend winners and other highlights of the festivities.
It kicked off Friday night with the Celebrity Game and the Rising Stars Challenge. Commentators Michael Wilbon and Stephen A. Smith coached the opposing squads in the Celebrity Game. Fans got to see rappers, singers, and actors compete in a friendly game of basketball. Team Wilbon won with Common getting the MVP award.
Then it was time for the outstanding rookies and sophomores in the Rising Stars Challenge. Some big names who were part of the game were Ja Morant, Luka Doncic, and Zion Williamson. The US team won over the World with the Hornets Miles Bridges taking home the MVP trophy.
NBA All Star Weekend Winners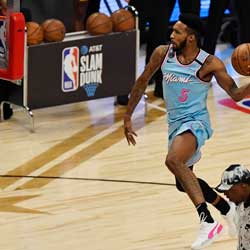 Based on pay per head for bookies reports, fans didn't expect the big men to win the Skill Challenge. However, it is the trend in the past couple of years. In the finals, Bam Adebayo went up against Domantas Sabonis, with the former winning the event.
The three-points contest had an exciting finish. According to bookie pay per head reviews, the title was contested by Devin Booker, Buddy Hield, and Davis Bertans. First up was Bertans, who had a forgettable performance. Then Booker scored 26 points and thought he already won the contest. However, Hield showed what he could do even though he had a slow start. He got hot in the end and finished with 27 points to win the crown.
Then came Saturday's highlight, the Slam Dunk Contest. Although Pat Connaughton and Dwight Howard had their moments, fans knew it was a battle between Derrick Jones Jr. and Aaron Gordon. It was a close match that required a tiebreaker until the end. Although Gordon had 297 out of 300 points, he lost to Jones Jr.
You can grow your bookie business by accepting prop bets during the All Star Weekend. It brings in more players and makes watching the game more engaging.