NBA Betting Update – Golden State Warriors Remain Undefeated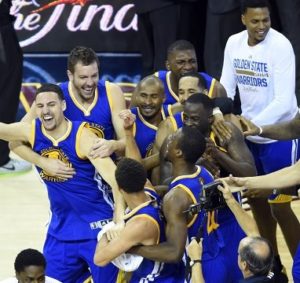 The Golden State Warriors continue to be the story of the NBA as they have remained perfect with a 23-0 record entering Thursday's action. Golden State hasn't just been winning – they've been winning by huge margins and are a league best +14.6 points per game in total point differential. By comparison, the Cleveland Cavaliers are leading the Eastern Conference with a 14-7 record.  In addition, they have a +4.0 ppg differential – more than ten points fewer per game than the Warriors.
Golden State has shown no signs of slowing down with each of their last five victories coming on the road (two more road games before they return home to host Phoenix on December 16th), and we can't imagine what the ratings will be when the Warriors host the Cavs on Christmas Day if Golden State is able to retain their perfect record.
Golden State did suffer their first major injury of the season, however, with guard Klay Thompson spraining his ankle and is questionable on Friday at Boston. The Warriors have been fortunate to be basically injury-free up until this point.

Warriors Killing the Sportsbooks
Warriors are also killing it at the betting window, going 16-7 against the spread for 8.3 units of profit. Only Orlando has done better (15-6-1 ATS, +8.4 units of profit).  In addition, those two teams are well ahead of third-place Toronto (14-8-1 ATS, +5.2 units of profit). The real time sports betting website have tried their best to make the underdog look attractive in Warriors games, but with Golden State winning by an average of 14.6 points per game they keep covering the spread at a high rate.
At the other end of the spectrum (in terms of ATS profit/loss) is Houston, although the Rockets have finally broken out of their slump.  In addition, according to the best sports betting software have started to win both outright as well as against the number. Houston has won six of their last eight games overall and are 4-1 against the spread in the month of December. They are now 8-15 ATS on the season (down 8.5 units), one-tenth of a unit worse than both Cleveland and New Orleans.

Lost in the shuffle of Golden State's media coverage is San Antonio, who is a dominant 18-5 straight up on the season and like the Warriors, they are winning by a ton with a +11.2 ppg differential – well above the third best team in the league (Oklahoma City, +6.9).
No surprise, then, that the Spurs are also a great "play on" team so far going 14-9, +4.1 units of profit.  In addition, they have lost back-to-back games against the spread only once all season (6-1 ATS following an ATS loss). Consider the Spurs a great play as long as Golden State continues to reap the majority of media attention.  This is of course,  the major cause for bad line value.