World Cup: Iran Beats Wales to Stay Alive
Iran beats Wales courtesy of two late goals. As a result, they keep their hopes alive to qualify for the next round of the World Cup.
Rouzbeh Cheshmi scored from long range in the 98th minute, and Ramin Rezaeian completed the victory in the 101st minute, giving Iran its first tournament points.
According to sportsbook pay per head sources, both goals occurred after Wales goalkeeper Wayne Hennessey was sent off in the second half for a harsh challenge beyond his area, becoming the tournament's first red card recipient.
Iran generated more opportunities and was a deserving winner in a tense contest in which both sides needed victory to improve their hopes of moving from Group B.
Iran Beats Wales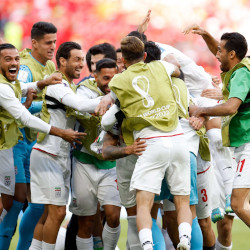 Iran's players sang the national anthem before Friday's encounter, but booing could be heard inside Qatar's Ahmed bin Ali Stadium.
The Iranian players stood quiet during the national anthems before their first match against England on Monday, which was regarded mainly as a display of sympathy for those protesting at home.
According to pay per head reports, Iran is competing in the World Cup despite domestic strife. The game occurred only one day after the United Nations proclaimed the country to be in a "full-fledged human rights crisis" due to government crackdowns on anti-government dissidents.
Protests and violence, seen by analysts as the most serious since the inception of clerical rule during the 1979 Iranian Revolution, have rocked Iran in recent months, threatening the very essence of the country's system, which has been in power for more than 40 years.
It was spurred by the death of Mahsa Amini, a 22-year-old woman who died after being imprisoned by Iran's morality police for allegedly failing to follow the country's strict clothing code. Iranian security forces have retaliated violently.
It is only a week into the World Cup in Qatar. So make sure you know where to bet on sports to have peace of mind when wagering on soccer matches.
Start a bookie business with PricePerPlayer.com