Bookie Talks about Warriors Vs Blazers Game 1
Despite not having Kevin Durant in their lineup, The Golden State Warriors got a convincing win over the Portland Trail Blazers. The Warriors vs Blazers Game 1 ended with a score of 116 to 94 in favor of the Warriors.
The Blazers managed to stick to the Warriors most of the first half. However, Steph Curry scored two three-pointers in the dying minutes of the half to increase their lead to nine. At the start of the second half, they still had the momentum. As a result, they increased their lead to 17 points.
Although the Blazers managed to reduce the deficit going into the last quarter, there was never a doubt that the Warriors will take Game 1 of the WC Finals. In fact, the final score doesn't reflect the efforts Lillard and the rest of the Blazers showed in the game.
Warriors Vs Blazers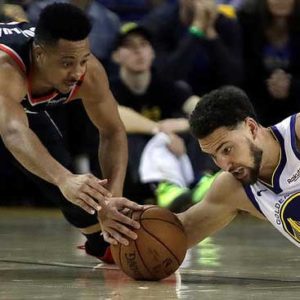 In Game 1 of Warriors vs Blazers, Steph Curry showed why he was a two-time MVP and making sports news headlines once again. In fact, he scored 36 points on nine three-pointers. Game 1 also showed Blazers' ineffective defensive against the pick-and-roll.
McCollum and Lillard only scored a total of 36 points. Their combined scores covered that of Curry's alone. If this will continue throughout the series, it will be over in just a couple of games. Bookie pay per head solutions provider gives the credit should to the Warriors' defense for taking out Lillard's 3-pointers. Also, Klay Thompson had a great time defending against McCollum.
Speaking of the Thompson, he had 26 points. He helped his team in both offense and defense. It looked like the funk he suffered during the series against the Rockets is now gone.
With just a day off before Game 2, the Blazers need to get out with their guns blazing or else they are going home down 0-2 in the series. According to a pay per head bookie, most gamblers are betting for the Warriors to win the next game.