IDSCA.com Sportsbook Pay Per Head Review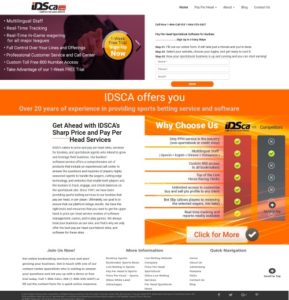 IDSCA stands for International Data Solutions and is a leading provider of Sportsbook Pay Per Head Service on the market.  The company has been around since 1997 and is one of the pioneers in the online sports betting industry. The IDSCA.com Sportsbook Pay Per Head Review will go into the advantages and disadvantages of using this bookie provider.  In addition, we will provide useful information on their sports betting platform and our final analysis on the company.
They have a pretty nice looking company website they were the first Sportsbook PPH service to give a personalized website and toll-free number to each of their clients.
In addition, they have over 20 certified programmers and technicians to ensure that their services are always up and running.
IDSCA.COM RATING DETAILS
---
Agent Interface Rating:

3.5 out of 10

Player Betting Platform Rating:

7.0 our of 10

Cost of PPH Rating:

3.5 out of 10

Reporting:

6.0 out of 10

Customer Service:

8.5 out of 10
TOTAL RATING: 5.7 out of 10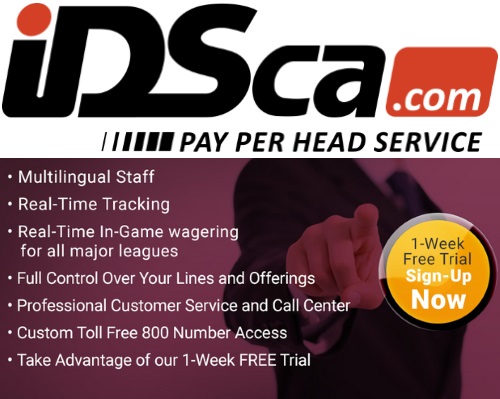 INFORMATION ABOUT IDSCA.COM PAY PER HEAD SERVICES
General Information
Inception: 2002
Software: ASI, iPlay Mobile Betting Interface and In-Play live betting
Price: $23
Contact: Live Chat
Website: www.idsca.com
Location: Costa Rica

Private Toll-Free Number Available: yes
Account-to-Account Transfer: Yes
Private Website: Yes
Current Promotion: 1 Week Free Trial
Types of Gambling Available
Sports Betting: yes
Live In-Game Betting: yes
Online Casino: Yes,
Racebook: yes
Live Casino: no
Poker Room: no
Mobile Platform Available: Yes
Online Wagering Available: yes
Telephone Wagering Available: Yes
Private Toll-Toll Free Number: Yes
Player Bonuses Available: Yes
The IDSCA Registration Process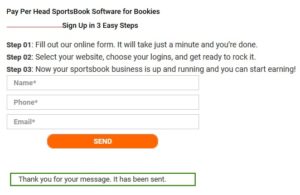 Registering for and IDSCA.com Pay Per Head account is not as easy as it sounds.  It is a three step process that is not automated which makes you wonder about the rest of their services.
Step 1. First you have to fill out the registration form and wait for them to reply.  On average, it takes about 10-15 minutes before you receive a reply.
Step 2. Once you have received a reply you need to contact call them in order to start up your package. When you call them, you will need to answer questions about the type of gambling website you are looking for.  In addition, you will have to answer questions like how many players you will have, preferences and so on.
Step 3. Make your deposit and they will start working on your website.
IDSCA.com Sportsbook Pay Per Head Review
In terms of cost, IDSCA is more expensive than other Sportsbook PPH services.  The cost of their basic package is $23 per player.  The basic package will include: Sports Wagering, Horse Wagering, Casino, Mobile Wagering and Live Betting services. Keep in mind that the reason for the higher cost is because you get your own personalized website and toll-free number.
It is possible to get a lower initial cost per player if you decide to pay only for the sports and horse wagering.  However, you will have to pay for the additional services like the casino, live betting and mobile betting separately.
IDSCA.com Player and Agent Software Review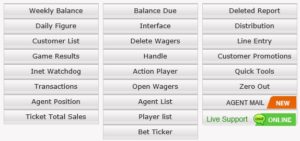 The player sports betting interface is nice and clean but a bit antiquated as they still use ASI.  However, it does what it is suppose to do.
For the agent/sportsbook pay per head operator, it's a mess.  When you click on an option, you sometimes have to use the back button to see the options menu.  They have some decent management options but the software is very frustrating and difficult to use.
The Player management interface is very limited because you cannot add any player details.  On the plus side, you are able to set parlay and teaser max wager limits. We didn't like that we could not enable or disable the online casino unless it is part of your package.  This means that if one of my players wants to access to the casino; I have to call it in.
Our Opinion and Recommendation
This Sportsbook Pay Per Head service is too expensive for what you get.  Most bookie Pay Per Head service will give you a much better deal and more gambling options.  In addition, even with the toll-free number and the free website, the cost is still too high.  Other Sportsbook Pay Per Head Provider, like PricePerPlayer.com will give you these at a much more affordable cost.

IDSCA.com
Average rating:
3 reviews
Aug 13, 2020
I gave it 2 stars because I don't think their services are worth what I paid for them. I switched to a cheaper provider with better services.
May 3, 2019
expensive PPH
Although their customer service was helpful, their services are too expensive. I can find other providers with better services at more affordable prices.
Feb 23, 2019
Feedback
Started out with them. They were okay, but I did not realize how much I was missing until I saw other sites and they had better software. Left them for better.