In-Play Betting Features at PPH Sportsbooks
Make sure you have the best in-play betting features at your PPH sportsbook.
Key Points
– In-play betting features allow a bookie to earn more money.
– In-play betting features give bookies more control of their operation.
In-Play Betting Features at PPH Sportsbooks
Live betting has become increasingly popular as a result of advancements in sportsbook software technology and with the increase in the number of bettors around the world.
Over the past few years, sports betting has exploded, especially in the U.S. As more states legalize sports betting, an increasing number of Americans are starting to wager on sports.
The smart bookmakers are using the best sportsbook software. The best sportsbook software offers the best in-play betting features, since live betting is the latest craze.
What Is Live Betting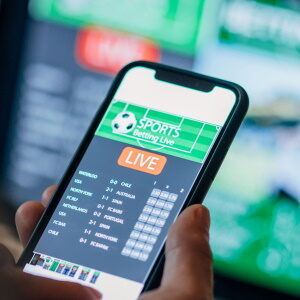 It's exactly as it sounds. Instead of placing a pregame bet and then waiting for the outcome of the game, bettors can now wager as a game is played.
Bettors can wager on a point spread or a moneyline. They can bet on totals and player props while the game is being played. There is a large number of live betting markets available now as more sportsbooks offer in-play betting features.
As mentioned, the live betting craze is fueled by technology. Pay per head sportsbooks have improved their software so much over the past several years. They can now offer live betting odds on a wide range of bets.
Today, a bettor can watch a game live and make an almost limitless amount of bets throughout the game.
PPH sportsbook software allows the odds on a live bet to be changed almost immediately depending on the circumstances of game play.  At pretty much any time during a live athletic event, bets can be made.
The majority of internet sportsbooks calculate live betting odds using algorithms. These computer programs operate far more quickly and accurately than people do. This is what gives PPH sportsbooks the ability to offer so many in-play betting features.
MUST READ > EXPANDING BOOKIE REVENUE STREAMS WITH PPH SOFTWARE
Offering VIP Live Betting
Today's modern bettor expects access to constant action. These bettors were brought up in an era of technology and crave constant attention. They want to have the ability to place a bet at pretty much any time.
The best pay per head sportsbooks offer that ability. Traditional platforms could not do so and that is why today's bettors flock to online sportsbooks. The typical PPH sportsbook offers a variety of other features such as easy deposit/withdrawal methods, customer service options, and an ease of use for the customer. Bettors pull out their smartphone and they are in their betting account in a matter of seconds.
Bettors always want  more and sportsbooks that can offer the ultimate live betting experience will have an edge on those that cannot. It is imperative in today's betting market to offer a VIP live betting experience.
Some clients may not know about new betting markets, such as live, in-play bets. That's why having a call center is very important. This way, you will be able to maximize your weekly PPH fees.

In-Play Betting Features – Markets
First and foremost, remember that if bettors can get more, they will take it. If they are searching for more and can't find it, they will go somewhere else.
The best PPH sportsbooks will offer the most live betting markets. That will include all of your traditional markets such as the point spread, moneyline, and totals bets. At any time, a bettor can log into his account and find these bets on whatever game he is watching.
There will also be numerous other live bets, including live props. These may include team and player props as well as those unskilled props. Those might include a Yes/No bet on whether the next pitch in a baseball game will be a strike. It could be a wager on the next basket in an NBA game. Will it be a two-point or three-point basket?
The more markets a bookie offers, the more likely he is to keep his current player base and the more likely he is to attract new bettors.
That is why bookies must partner with pay per head services that offer the widest range of live betting markets. With the help of a pay per head provider, it's never been easier to start a bookie business as a side hustle.
Control the Live Betting Experience
In the grand scheme of things, it's about making money. As a bookie, you need to maximize your returns. Having control over your in-play betting features is a must.
For example, you should be able to set wager limits on live bets. You can limit which sports and which leagues you will have available for live betting. You can also establish maximum and minimum odds in the various live betting markets.
Partnering with reputable pay per head providers will allow you to control these various mechanisms to ultimately make you the most money. It's your business and not only do you want to provide a great live betting experience for your bettors, you also want to make money in the process.
Use Bonuses & Incentives Wisely
An easy way to attract new bettors and to entice your current players to use your in-play betting features is to offer some incentives. Offer free bets or even some swag as an incentive to engage in live betting.
You might even run contests in different sports or even run one for a single game. Offer free bets to the winner.
Remember, if bettors can get more, they will take it. Plus, they respond to incentives. Use the bonuses wisely and remember that you are using them to ultimately earn higher profits.