ABCPerHead.com Sportsbook Pay Per Head Review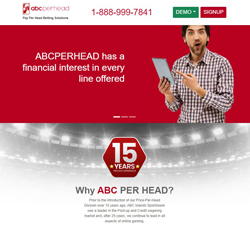 ABCPerHead.com started in 2009 and was one of the first sportsbook pay per head services we tried in 2015. However, we didn't like their services and switched to another provider. So, for our ABCPerHead.com sportsbook pay per head review, we sign up with them once again and find out if they improved their PPH solutions.
In 2009, the Jazz Sports group decided to venture into the PPH industry. ABCPerHead.com became their flagship PPH brand. Other brands that are part of the group include ABCIslands.ag, JazzSports.ag, and PayLess Price Per Head, to name a few.
According to sportsbook pay per head reviews, the goal of ABCPerHead.com is to simplify the way their clients run their sportsbooks. Also, they cater to both new and experienced bookies. However, they are not upfront with their pricing. You can't find any mention of their rates on the website, except that they offer excellent pricing.
ABCPERHEAD.COM RATING DETAILS
---
Agent Interface Rating:

6.7 out of 10

Player Betting Platform Rating:

6.6 our of 10

Cost of PPH Rating:

3.0 out of 10

Reporting:

7.5 out of 10

Customer Service:

6.6 out of 10
TOTAL RATING: 6.08 out of 10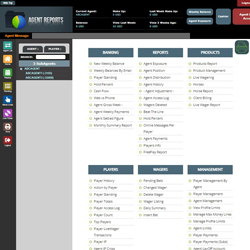 INFO ABOUT ABCPERHEAD.COM PAY PER HEAD SERVICES
General Information
Inception: 2009
Software: DGS
Price: $18
Contact: info@abcperhead.com
Telephone: 1-888-999-7841
Website: abcperhead.com
Location: Costa Rica

Private Toll-Free Number Available: yes
Private Website: Yes
Current Promotion: none
Types of Gambling Available
Sports Betting: yes
Live In-Game Betting: yes
Online Casino: Yes,
Racebook: yes
Live Casino: yes
Poker Room: no
Online Wagering Available: yes
Telephone Wagering Available: Yes
Mobile Platform Available: Yes
Player Bonuses Available: Yes
The ABCPerHead Registration Process
There's no automatic sign-up for an account. Instead, you need to contact ABCPerHead.com to register for one. There are two ways to do so. First, you can use the online form. Also, you can call them, and they will walk you through the process. Unfortunately, we didn't receive any response after submitting the online form. However, we reached them after calling their hotline.
ABCPerHead.com Sportsbook Pay Per Head Review
One red flag is that they are not transparent with their price for every player. Their services start at $18 per head. Although they offer an online casino, you need to pay a five percent royalty on casino losses. Also, they would charge for stuff that you can get for free from other PPH providers. For instance, you'll pay at least $40 a month for a customized website.
ABCPerHead.com Player and Agent Software Review
They don't offer a free trial for their PPH services. The good news is that they do have a demo on their website. Also, ABCPerHead.com uses DGS sports betting software. If you are familiar with other PPH dashboards, you can easily use the ABC Per Head's agent dashboard.
The player interface also looks generic. The front page shows all the sports you can wager on. Also, it has a navigation bar on the right side for the live streaming of games. You don't see that often in PPH sportsbooks.
Our Opinion and Recommendation
If you are learning how to be a bookie, we can't recommend ABCPerHead.com. It is too expensive, and their rates are shady. Also, they should be transparent with their fees instead of hiding them from the public. There are better options out there that are less expensive and more honest about their rates.

If you are looking for a top PPH service, take a look at our list of the best Sportsbook Pay Per Head providers. These are the Highest rated services according to our Sportsbook Pay Per Head Reviews.

ABCPerHead.com
Average rating:
0 reviews