PricePayPerHead.com Bookie Pay Per Head Review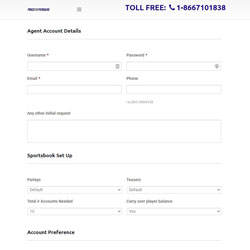 We are always skeptical of using pay per head providers that don't have an online presence. That is the case for PricePayPerHead.com. When you search for PricePayPerHead.com bookie pay per head review, nothing shows up.
Another red flag is that they don't have any indicator of their price rate on their website. It is as if they're hiding something. To make things worse, we haven't heard from them after submitting the online form. We even followed it up through email. If first impressions do last, things are looking bad for PricePayPerHead.com.
They claim to be a one-stop-shop for all sportsbook need. However, we can't trust a provider that's not transparent with its pricing. The best sportsbook pay per head providers are not afraid of publishing their price ranges.
INFORMATION ABOUT PRICEPAYPERHEAD.COM BOOKIE PAY PER HEAD SERVICES
General Information
Inception: 2017
Software: NA
Price: NA
Contact: info@pricepayperhead.com
Telephone: 1-8667101838
Website: www.pricepayperhead.com
Location: Costa Rica

Private Toll-Free Number Available: No
Private Website: No
Current Promotion: None
Types of Gambling Available
Sports Betting: yes
Live In-Game Betting: yes
Online Casino: Yes,
Racebook: yes
Live Casino: Yes
Poker Room: no
Online Wagering Available: yes
Telephone Wagering Available: Yes
Mobile Platform Available: Yes
Player Bonuses Available: Yes
PricePayPerHead.com Registration Process
We signed up for an agent account with PricePayPerHead.com via their online form. It asked for the usual info such as username, password, email, and phone number. Also, you can set up your preferred sportsbook settings and account preferences.
However, our registration didn't push through. We didn't receive a confirmation message from the provider. We check our spam folder and even emailed them, but we didn't get any response.
PricePayPerHead.com Bookie Pay Per Head Review
PricePayPerHead.com website is clean and easy to navigate. However, that's the only positive thing about it. You know the company was neglecting its online presence when the last time they updated the blog was in 2017.
PricePayPerHead.com Player and Agent Software Review
Although we didn't get our accounts, we tried to test their player and bookie software through their demos. The good news is that we managed to log into the demo player account. The bad news is that we can't log into the agent account. Thus, we can't provide an accurate review of the agent platform.
On the other hand, the player interface is basic. You can easily navigate through various sports and leagues. Also, you can display lines based on the bet type. However, they can improve the design of the betting site.
Our Opinion and Recommendation
We can't recommend PricePayPerHead.com bookie PPH because of the bad experience we got from them. We didn't even manage to create an agent account. Also, there are better PPH providers out there based on bookie pay per head reviews.
Check out PricePerPlayer.com instead!

PricePayPerHead.com
Average rating:
0 reviews