Manchester United vs West Bromwich Albion Results
A retaken penalty kick at the 56th minute was the lone goal scored in the Manchester United vs West Bromwich Albion game. Bruno Fernandes had to take the penalty twice after VAR caught Sam Johnstone stepping out of his line in the first attempt.
Fernandes didn't make a mistake in the second penalty kick. The goal ended the 324-minute scoring drought for United in the Premier League at Old Trafford. The last home goal was also by Fernandes against Tottenham.
West Bromwich Albion thought they had a chance to even the score after the official awarded them a penalty. However, the review showed that Fernandes only touched the ball. Thus, the referee revoked the penalty.
Manchester United vs West Bromwich Albion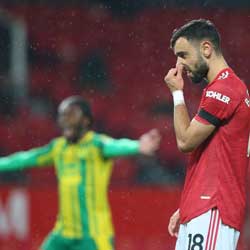 According to a bookie pay per head blog, West Brom remained winless in the season. They are missing the services of their captain Jake Livermore and back Kieran Gibbs due to the coronavirus. On the other hand, United got the top spot in the standings for the first time this year.
It is the second time Ole Gunnar Solskjaer led his team above Manchester City in the standings. The first one was after winning the first game last year, and it only lasted for a week based on sportsbook pay per head solutions sources.
Johnstone had the chance to become a hero against his former team. He spent nine years in the United before transferring to West Bromwich in 2018. It was his first time to start a match in Old Trafford.
He had two excellent saves against Anthony Martial. It looked like he had the situation under control as he turned away United's scoring attempts. Despite being on the losing side, he showed great effort throughout the game.
You can be a bookie and accept wagers on Premier League games with a pay per head solution. The best thing about it is that you can launch the sportsbook a couple of minutes after signing up for one.