BossAction.com Sportsbook Pay Per Head Review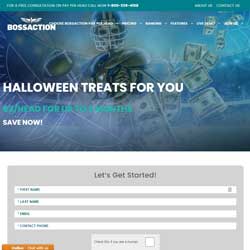 One thing we learned about BossAction.com is that it is a subsidiary of PayPerHead.com. Our BossAction.com sportsbook pay per head review will look exclusively at its services and if they are worth your money.
However, it is hard to separate BossAction.com from its parent company. For one, it uses the same sportsbook pay per head platform. It claims to be the best sportsbook pay per head provider with thousands of agents and players.
Other claims they made include dependable software, services, and quality customer support. Although we can agree with their software's quality, we can't say the same about their customer service.
INFORMATION ABOUT BOSSACTION.COM PAY PER HEAD SERVICES
General Information
Inception: 2019
Software: DGS and ASI
Price: $10.99
Contact: web form
Telephone: 1-800-339-4108
Website: www.bossaction.com
Location: Costa Rica

Private Toll-Free Number Available: yes
Private Website: Yes
Current Promotion: $3 for 3 months
Types of Gambling Available
Sports Betting: yes
Live In-Game Betting: yes
Online Casino: Yes,
Racebook: yes
Live Casino:  Yes at extra cost
Poker Room: no
Online Wagering Available: yes
Telephone Wagering Available: Yes
Mobile Platform Available: Yes
Player Bonuses Available: Yes
The BOSSACTION.com Registration Process
We signed up for an account at the discounted price to put their claims into a test. The fastest way to get started is to call their toll-free number. If you fill out their online form, you need to wait for a rep to email or contact you.
One thing we noticed about BossAction.com is that their services are too expensive. Although they have a promo of $3 per player for up to three months, the price for their basic package is $10.99. You can find better PPH services at $5 per player.
BossAction.com Sportsbook Pay Per Head Review
Their website has a streamlined design, and you can easily find the information you are looking for. Also, BossAction.com maintains a blog that provides can help potential bookies achieve their goals.
When it comes to pricing, they are a little more expensive than other PPH services. They offer two packages – The Business Class at $10.99 and the First Class at $12.99. However, you can get both packages at $3 for a maximum of three months for a limited time.
With First Class, you get live wagering, live dealer, and online and phone wagering. Both packages already include an online casino. Also, they have a referral program that allows you to make money when someone signs up using your code.
BossAction.com Player and Agent Software Review
BossAction.com uses both ASI and DGS sports betting platforms. You can choose the platform that you are comfortable with. It allows you to set limits, player options, and wager types. Also, the software can generate reports so that you can monitor what's going on with your sportsbook.
The player betting site is simple. Players can easily find the sport they want to wager on. However, don't expect to earn praise for its design from your customers. The software creates lines for most sports, including basketball, football, soccer, and more.
Our Opinion and Recommendation
At $10.99 per head, BossAction.com is expensive. You will find yourself in the red if players don't place bets using your sportsbook. That's why we conclude our BossAction.com Sportsbook Pay Per Head Review on a sour note. We recommend that you use a more affordable PPH solution, such as PricePerPlayer.com, which has better pay per head reviews than BossAction.com.
Sign Up with PricePerPlayer.com today!

BossAction.com
Average rating:
1 reviews
Feb 2, 2021
Price not permanent!
They really looked promising so I tried them out. But after a few months my rate increased to $10 or something. Of course I left them then. The ads I saw said $3.