NBA Play Offs Sunday Recap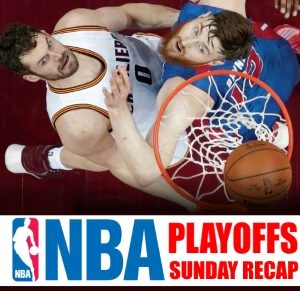 This past Sunday ended up with losers and winners with some teams that shined amongst the rest.  On the other hand, some did not do well as expected by the handicappers and the sports betting software companies. In this NBA Play Offs Sunday Recap we will take a look at the losers and winners so far.
Let's go ahead and start by looking at the Cleveland and Detroit matchup when the Cavaliers defeated the Pistons 106-101.  This was an important match for Cleveland because if they had any chance of winning the championship, they needed their big three players in good shape.
This is exactly what we saw as LeBron James, Kevin Love and Kyrie Irving worked closely together for the win.
Last NBA season, the Cavs were doing great until Love was out of the final three rounds win an injured shoulder.  Later on, things got worst with Irving who ended up missing the last five games of the Finals with a fractured kneecap.
More NBA Play Off Recap
This year, they expected to not have a repeat and are ready to be aggressive and a mentality to match.  However, the Pistons did not just rollover and let them win as they gave back as well as they took.  As they led the game in the fourth quarter it just wasn't enough in the end.
The Clippers and Trail Blazers game on the other hand were not as confident going in the NBA Play Offs according to many sports betting fans.  This being the 3rd season with Doc Rivers as their coach, the Clippers are hoping that they have the stability drive to win the tournament.
In their first game, they certainly showed that they did with a 115-95 victory over the Trail Blazers but will it be enough to carry them to the semi-finals?
The 19,000 screaming fans at the Staples Center certainly seem to think so.  According to several sportsbook pay per head websites, this is exactly how the betting was expected to be.