Bookies Need to Get the Most Out of March Madness
With the Super Bowl in the rearview mirror, it's time for bookies to look ahead to March Madness. The NCAA tournament has become one of the most popular and most wagered sporting events in the U.S.
Coming in second right behind the Super Bowl in betting volume, bookies need to get the most out of March Madness. There is money to be made and how well a bookie does with the NCAA tournament can make or break the business.
HANDICAPPING MARCH MADNESS 2021
Run a Bracket Challenge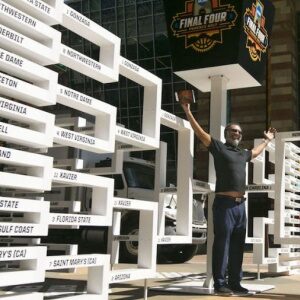 One of the first things a bookie can do to maximize March Madness is to run a bracket challenge. What do people love more than filling out an NCAA tournament bracket?
Whether they are bettors or not, the average person will fill out a March Madness bracket. It's become a part of popular culture these days. Most popular offshore sportsbooks offer some sort of contest for the Madness.
Bookies can even add some extra winnings in the form of cash or free bets to sweeten the winner's pot. Giving some free bets to a winner who is not a bettor might entice them to open an account and make a deposit.
Offer Bonuses for March Madness
If you build it, they will come. It's not Field of Dreams, but if you offer the right incentives you will attract new bettors as well as inspire current customers to bet more than they normally do.
To you current customers, offer a $10 or $20 free play or even 5% more on any winning March Madness bet. You may wake up some customers that haven't bet that much on college basketball.
The same is true in the acquiring of new clients. Offering these types of incentives can attract bettors unhappy with their current sportsbook or those who possibly have never placed a bet but would like to try by betting on March Madness.
Regardless of what type of bonus or promotion, bookies should offer something to bring in more action on NCAA tournament games. With the cancellation of the 2020 tourney, bettors will be looking to go all out on March Madness 2021.
Must Read > Are You Ready for Life After Football?
Provide NCAA Tournament Info
Somewhere in the neighborhood of $10 billion expected to be wagered on the 2021 NCAA tournament. Bookies need to do everything they can to get as big of a slice of the pie as they can.
Offering bonuses, running promotions, and having a bracket challenge will definitely attract a number of new and past customers. The other thing that will bring more action your way is to provide some education to those looking to bet on the tournament.
Beginning now and running for the next month, all most people will be talking about is March Madness. By providing current and accurate data to those looking for it, bookies can steer potential customers their way.
Content is king and potential bettors backed with solid data are more likely to pull the trigger and place a bet with the bookie that provided the information.
There are more ways for bookies to take advantage of March Madness, but following these simple suggestions is a great way to start.