DiscountPayPerHead.com Sportsbook Pay Per Head Review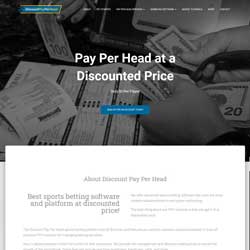 DiscountPayPerHead.com might seem to be a new
pay per head sportsbook
provider, but its team has years of experience in the industry. It shows in its products and services. Hence, we made a DiscountPayPerHead.com sportsbook pay per head review to find out if you should consider it for your bookie business or not.
Although their online platform is new, DiscountPayPerHead.com has been in the business since 2016. They have been providing quality software sportsbook at a discounted price. Its sports betting platform is at par with some of the best ones on the market today.
Since it's a relatively new company, it was hard to find things about DiscountPayPerHead.com online. Thus, we did our own digging to determine the advantages and disadvantages of using its services.
INFORMATION ABOUT DISCOUNTPAYPERHEAD.COM PAY PER HEAD SERVICES
General Information
Inception: 2016
Software: DGS
Price: $5
Contact: paul@discountpayperhead.com
Telephone: N/A
Website: DiscountPayPerHead.com
Location: Costa Rica

Private Toll-Free Number Available: yes
Private Website: Yes
Current Promotion: 2 Week Free Trial
Types of Gambling Available
Sports Betting: yes
Live In-Game Betting: yes
Online Casino: Yes,
Racebook: yes
Live Casino: Yes
Poker Room: no
Online Wagering Available: yes
Telephone Wagering Available: Yes
Mobile Platform Available: Yes
Player Bonuses Available: Yes
There are many PPH providers on the market today. One thing that made DiscountPayPerHead.com stood out from its competitors is its streamlined registration process. Also, they claim to have high-quality after-sales services.
We put their claims into a test by signing up for an account. We were surprised to find out how easy it was to get a bookie account with the provider. The process was simple. All you need to do is to provide a username and password. That's it! It doesn't require any personal or credit information.
After submitting the application form, we waited for several minutes for approval. Once we got the confirmation, we started using the sports betting software right away. Plus, they offer the first two weeks for free with no deposits or obligations. You can cancel your account at any time without paying within the period.
DiscountPayPerHead.com Sportsbook Pay Per Head Review
The website was well-designed and provided all the information you need to learn about their services. The palette they used was pleasing to the eyes and made us stay on the site to learn more about the company and its products.
The best thing about DiscountPayPerHead.com is that they offer quality PPH services at a discounted price. You'll get a dependable, fast, and secure sports betting platform without paying a lot of money.
The package comes with all the tools you need to become a successful bookie. It is ideal for individuals who want to start an online sportsbook.
DiscountPayPerHead.com Player and Agent Software Review
The DiscountPayPerHead.com platform is based on the DGS software. The dashboard has everything you need to operate the sportsbook. Also, it gives you full control of the lines and players.
Its player interface is also excellent. Players can navigate through different sports and can easily find the one they want to wager on. The PPH software will ensure the lines are attractive to players. Thus, they bet on different sporting events each time they visit the sportsbook.
Our Opinion and Recommendation
DiscountPayPerHead.com provides excellent value for your money. At a discounted rate of $5 per player, you'll get all the tools you need to succeed in the sports betting industry. Although a virtual newcomer, you can depend on DiscountPayPerHead.com for all your online bookie business needs.
Sign up with DiscountPayPerHead.com today!

If you are looking for a top PPH service, take a look at our list of the best Sportsbook Pay Per Head providers. These are the Highest rated services according to our Sportsbook Pay Per Head Reviews.

Discount Pay Per Head
Average rating:
2 reviews
Jan 26, 2021
Better than My Old One
I transferred to Discount Pay Per Head a couple of years ago when I needed a cheaper pay per head. It was a good call because while it was cheaper than my old one, I enjoyed using this one better. Would recommend.
Aug 8, 2020
Best Discounted PPH Provider
One thing I like about DiscountPayPerHead is that you get all the best tools and services at a discounted rate.