PayPerHeadKing.com Sports Betting PPH Review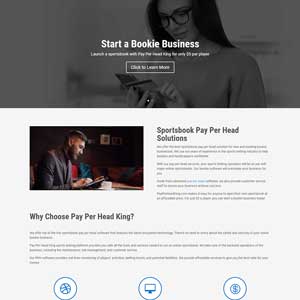 Our PayPerHeadKing.com sports betting PPH review will look at the pros and cons of using the company's PPH solutions. Although it is a relatively new PPH provider, they have been in the industry since 2016.
Although they need to improve some features, their sports betting software solution is as good as the best platforms available today. In 2016, they offered their services to private companies that want to venture into the online sports betting industry.
It is only in 2019 that they opened their pay per head sportsbook business to the public. They claim to have affordable yet reliable sports betting software. Our PayPerHeadKing.com sports betting PPH review will investigate their claims and find out if their services are really that good.
INFORMATION ABOUT PAYPERHEADKING.COM SERVICES
General Information
Inception: 2016
Software: DGS
Price: $5
Contact: rick@payperheadking.com
Telephone: contact form online
Website: www.pphintl.com
Location: Costa Rica

Private Toll-Free Number Available: yes
Private Website: Yes
Current Promotion: 2 Week Free Trial
Types of Gambling Available
Sports Betting: yes
Live In-Game Betting: yes
Online Casino: Yes
Racebook: yes
Live Casino: Yes
Poker Room: no
Online Wagering Available: yes
Telephone Wagering Available: Yes
Mobile Platform Available: Yes
Player Bonuses Available: Yes
PayPerHeadKing.com Pay Per Head Registration Process
Registering for a http://PayPerHeadKing.com account is easy. They don't require any personal information from you. In fact, all you need to do is to provide a username and password.
Also, you can choose the type of account you want. After you submit the online form, you gain access to the free sportsbook demo for two weeks. That's enough time to find out if the software is right for your bookie business.
PayPerHeadKing.com Sports Betting PPH Review 
PayPerHeadKing.com has all the tools and features you need for your bookie business. In fact, they built their PPH solution based on the DGS software. They made some improvements to it to make it better for their clients. We like what they did with the software and their customer service representative answered all the questions we had about its features.
PayPerHeadKing.com Player and Agent Software Review
On the agent side, PayPerHeadKing.com has a simple dashboard that provides everything you need to run the bookie business. It has all the tools and features to manage players and lines. Also, you can generate reports to monitor players' activities.
The player platform of the PPH solution is user-friendly. Players can easily find the sport they want to place wagers on. However, they could have improved its design to make it more attractive to users. Overall, there's nothing to complain about with the player platform.
PayPerHeadKing.com
Average rating:
2 reviews
Jan 24, 2020
Treats me like a king
Although I'm just in my sixth month with PPHK, I have no complaints about its services.
Jan 22, 2020
looking good
I just started with my free demo, and I'm already impressed.