PayPerHead.com Sportsbook Pay Per Head Review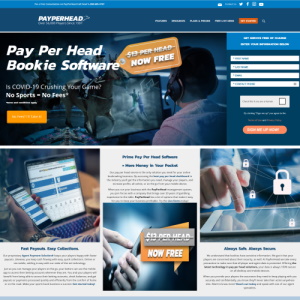 Founded in 1997, PayPerHead.com is a popular bookie agent sportsbook software provider. Because the organization appears to always be upgrading their services, we thought we had better write a new Sportsbook Pay Per Head Review.
PayPerHead has always had a solid sports betting platform. In 2019, they added a first of its kind agent payment system. Dubbed the Agent Payment Solution (APS®), the interface allows for both crypto and fiat financial transactions.
In the sports betting industry, Bitcoin and Ethereum have become popular cryptocurrencies. PayPerHead.com's APS allows bookie agents to use both.   
The company also impresses with their sports betting options. Bookie agents can offer 80+ sports leagues, eSports betting, a digital and live dealer casino, and horse racing. When it comes to security, they offer DDOS protection and more. Bookie agents can speak to customer service for more info about their security.
Overall, we believe the company has made upgrades that parallel changes in the sportsbook industry. That makes PayPerHead a per head sports betting tech leader.
PayPerHead.com Updates and News
04/20/2020 – PayPerHead.com has a promotion where they're offering their sportsbook software for free until major U.S. sports return. Then, agents get another 2 weeks free.
Per Head Sportsbook Fees – FREE until major sporting events start up again.
Racebook- FREE until major sporting events start up again.
Live Wagering – FREE until major sporting events start up again.
Digital Casino – FREE until major sporting events start up again
Live Dealer– Regular Fees apply
INFORMATION ABOUT PAYPERHEAD.COM PAY PER HEAD SERVICES
General Information
Inception: 1997
Software: DGS and ASI
Price: $10.99 and Up
Contact: contact form
Telephone: 1-800-605-4767
Website: https://payperhead.com
Location: Panama

Private Toll-Free Number Available: yes
Private Website: Yes
Current Promotion: FREE until major sports leagues begins + 2 Weeks Free
Types of Gambling Available
Sports Betting: yes
Live In-Game Betting: yes
Online Casino: Yes,
Racebook: yes
Live Casino: Yes at additional cost
Poker Room: In the Works
Online Wagering Available: yes
Telephone Wagering Available: Yes
Mobile Platform Available: Yes
Player Bonuses Available: Yes
The PayPerHead Registration Process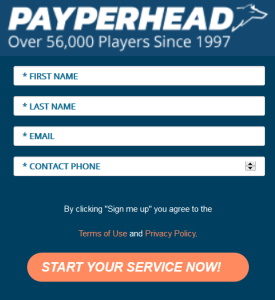 PayPerHead used to require new bookies to enter their information. Then, one of the company's salespeople would give the person a call. That's no longer the process. Bookies can sign-up directly on the Get Started page.
Once you sign-up, a PayPerHead.com rep will call or email within an hour. While the sales staff is aggressive, they know their stuff. Every person we spoke to at PayPerHead answered our questions 90% of the time without missing a beat.  
PayPerHead.com Sportsbook Pay Per Head Review
Last year, the company created a new logo and new website look. Both have remained. They continue to upgrade landing pages on logos. What we really liked is how the company continually updates their images to coincide with what's happening in sports.
For example, the current images show motor sports, horse racing, and casino because major U.S. sports have yet to resume.
We appreciate the PayPerHead Resources page. Few companies provide specific pay per head information in blogs and guides the way that PayPerHead.com does.
When it comes to pricing, we consider PayPerHead's pricing fair. They don't insist on being the low-cost leader. So, if you're looking for the cheapest per head service, this company isn't the one for you.
They have two packages available, Standard for $10.99 per head and Prime for $13.99 per head.
With Prime, bookie agents pay extra for phone wagering, a customized website, and notification system use. Even with Prime, there's an additional fee for the live dealer casino. However, the fee is lower with Prime than it is with Standard.
Right now, the current promotion makes all PayPerHead sportsbook software free except the live dealer casino. 
PayPerHead.com Player and Agent Software Review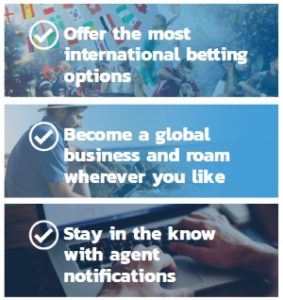 PayPerHead offers both DGS and ASI sports betting platforms. This allows bookies to choose the platform they're most comfortable with.  
No matter which platform you prefer, you are in charge. With PayPerHead, bookies have the power. They can enable and set limits, bet types, and other player options.
PayPerHead.com offers a basic reporting system. The company does allow agents to place reports on the dashboard. Also, their blogs provide advice on how agents can use reports to increase betting action.
Bookies can either go with a per head provided site or, for an extra cost, get a customized site. Either way, most agents won't have a problem. The provided sites aren't overly attractive. But, they do what they claim.
The player betting platforms are like we might expect. They're simple, which is what you want if you're a player. Sports bettors don't care about fancy images. Available betting options rival those of any online sportsbook.
Players can wager on rugby, NASCAR, and table tennis. PayPerHead has even added wagering on the NY Lottery and the price of Bitcoin.   
Our Opinion and Recommendation
PayPerHead.com's sportsbook software has kept up with the times. The Agent Payment Systemhas turned sportsbook operators into true business owners. We especially appreciate how the company's current promotion is free until major U.S. sports return.
That will help more than a few bookies stay in the black until they can offer sports betting options like NBA, NHL, MLB, or NFL.
When it comes to quality vs. cost, PayPerHead.com is the king.  No matter what per head package you sign-up for, you will get your money's worth.
Even though their $10.99 per head package is not the cheapest in the industry, it is by far the best in its class.  Their $13 per head Prime Package is in a league of its own. With the Prime Package, agents get the TruLive Wagering Platform, a branded website, loyalty benefits, and competitive rates for the live dealer casino.
Our recommendation is that all bookies should consider PayPerHead. Especially right now because the services are free.
Once major sports return, per head agents must consider costs associated with using PayPerHead.com's sportsbook software. Even though we believe there's value with the associated costs, each bookie must consider value compared to cost on their own.
Compare PayPerHead.com with other PPH services with our  Pay Per Head comparison page.

If you are looking for a top PPH service, take a look at our list of the best Sportsbook Pay Per Head providers. These are the Highest rated services according to our Sportsbook Pay Per Head Reviews.

PayPerHead.com
Average rating:
3 reviews
Apr 21, 2020
The best I have ever used
I started using PAYPERHEAD.com last year after trying out several different pay per head companies. The ones I have tried varied in price for cheap to expensive and payperhead.com beats them all! They have the best gambling management software that blows the competition away.
Dec 21, 2019
Well worth the money
I used their service about 5 years ago and switched to a different pay per head because of their price. Well, biggest mistake I ever made as I started up with them a few months ago and WOW, they now have so many options that they are destryoing their competition. payperhead.com has the best player ticket interface and their management software is superior to most PPH out there.
Sep 10, 2019
Expensive!
This was my first pay per head. I thought this was the standard price in the industry. but once i started seeing other pay per head review sites I found out that I have cheaper options that work even better. Of course I no longer use this one.