PayPerHead.com is a pretty popular bookie pay per head provider that has been in business since 1997.  We thought it was time for our PayPerHead.com Sportsbook Pay Per Head Review because they recently redid their website. In addition, to a new website, they also have a new logo making us curious about their current Services.
This Pay Per Head provider has always had a pretty solid sports betting platform.  Thus, this new look made us wonder if it's just cosmetic or if they have made new developments.  One thing we found interesting is that they now offer an agent payment solution. This is because offering this service makes them liable for agents using their service where it is not legal. Therefore, it does make us a bit skeptical about the future of this Pay Per Head Company.
Anyway, according to their website, they now offer over 80 sports leagues to bet on and even eSports betting. In terms of security, they boast having DDOS protection and more but no details are available about it. We believe that the other version of their website had more information about their services.
INFORMATION ABOUT PAYPERHEAD.COM PAY PER HEAD SERVICES
General Information
Inception: 1997
Software: DGS and ASI
Price: $10.99 and Up
Contact: contact form
Telephone: 1-800-605-4767
Website: www.payperhead.com
Location: Panama

Private Toll-Free Number Available: yes
Private Website: Yes
Current Promotion: 3 Weeks at $3 per Head
Types of Gambling Available
Sports Betting: yes
Live In-Game Betting: yes
Online Casino: Yes,
Racebook: yes
Live Casino: yes at extra cost
Poker Room: no
Online Wagering Available: yes
Telephone Wagering Available: Yes
Mobile Platform Available: Yes
Player Bonuses Available: Yes
The PayPerHead Registration Process

In all honesty, we thought that the new website would have an automatic account creation process. However, the PayPerHead.com Registration Process is still the same where you fill out and submit the registration form.  Thereafter, you just wait for them to contact you and after you make a deposit, you are ready to roll.
They are usually on the ball about getting back in touch with you.  You can expect a call or email within an hour.  However, in the technology rich environment we live in today and their "agent payment solution" you think it would be easier to get your account.
If you just want to try out their demo, they will email you login info to try them out.
They have a pretty good sales and customer service department but they are a bit too pushy for our taste. However, we concede that 90% of the time, they were able to answer our questions without missing a beat.
PayPerHead.com Sportsbook Pay Per Head Review
We honestly like the new website and logo as it is refreshing and sharp looking.  The PayPerHead.com website does a good job at giving highlights of their services.  However, if you want more information, you will have to ask directly because no details are available on the site.
One part that becomes obvious after browsing their website is that they are money hungry.  One of the offers they have is the "Get a 3-Week Trial at Just $3 per head". This is just wrong, as a trial should be free and not cost any money. 
In addition, in order to use their "Free Live Demo" you have to contact them first.  This is just ridiculous. It's obvious they just want your contact info so they hard sell their services to you.  Most Pay Per Head Services will just give you access to their Pay Per Head Demo without having to jump thru so many hoops. In our opinion, If they are not confident that their PPH can sell itself, it may be a cause for worry.
Moving on, they have two packages available, the "Standard" package for $10.99 and the "Prime" Package for $13. Basically, you pay extra to get phone wagering, live dealer, your own website and the use of their notification system. In addition, you also have to pay an additional fee if you want to have access to a live dealer casino.  However, the fee is lower if you use their Prime Package.
Also, when you take their promotion at $3 per player for three weeks, you get the Prime Package.
PayPerHead.com Player and Agent Software Review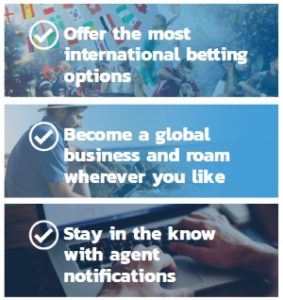 Now that we know the basics about PayPerHead.com, lets' continue our PayPerHead.com Sportsbook Pay Per Head Review.  Thus, let's take a look at their sports betting software.  According to their website, PayPerHead.com offers both DGS and ASI as their sports betting platform.  Thus, if you are a veteran and are more comfortable with one over the other you get your choice.  
Now, even though each platform is available, they have done enough changes to it that it is practically unrecognizable. In the end, they have a pretty nice sportsbook platform that gives you a lot of control over your players. For example, you have a lot of control over enabling and setting limits, bet types and gambling options for your players.
The reporting system is good but generally speaking is generic and can be found anywhere else.
Sports bettors will for the most part be content with the sportsbook websites they offer their PPH customers. This is because their player websites are plain and no very attractive but do everything it advertises. However, keep in mind that it is possible to have your own personalized player website at an extra cost.
The player betting platform is decent because it is easy to understand and find the betting option you want. However, there is nothing mind blowing about it as it most DGS and ASI based platforms are the same. In their defense, there is not much anyone can do to improve it other than make it look more attractive.  
Thus, the betting tickets works well and let's just leave it at that.
Our Opinion and Recommendation
PayPerHead.com without a doubt has a very good sportsbook software and platform. In addition, they do have a wide array of sports betting options that include eSports betting. In terms of bookie pay per head features, they have a great agent to player communication tools.
However, they are on the expensive side for the features you get from their services.  The $10.99 per head package is weak by itself and should cost a lot less.  This is because most Pay Per Head Services offer an equal or better services at a lower price.  The same can be said about their $13 per head Prime package.  It is good but the most we would pay for it is $10 per head.
What we did not like about their services is that you have to pay extra for every little thing.  For example, even if you use their Prime Package, you still have to pay extra to use their Live Dealer Casino. In addition, live wagering is extra even though other Pay Per head offers it as part of their normal package.
Our recommendation is that even though it looks like they offer more, they do not.  They are just using different name for their services and make it look like it is exclusive to their business. They have a good betting platform but we recommend that you use a different company.  One that offers the same at a more competitive price like shown in our Pay Per Head comparison page.

If you are looking for a top PPH service, take a look at our list of the best Sportsbook Pay Per Head providers. These are the Highest rated services according to our Sportsbook Pay Per Head Reviews.

PayPerHead.com
Average rating:
1 reviews
Sep 10, 2019
Expensive!
This was my first pay per head. I thought this was the standard price in the industry. but once i started seeing other pay per head review sites I found out that I have cheaper options that work even better. Of course I no longer use this one.