SportsBettingSolutionAsia.com Sportsbook Pay Per Head Review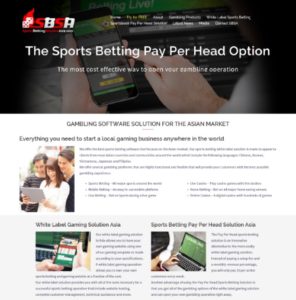 SportsBettingSolutionAsia.com is mostly known in the Asian gambling market for its sports betting software.  However, in recent year they have begun to offer a sportsbook pay per head service to its clients. Our SportsBettingSolutionAsia.com Sportsbook Pay Per Head Review will determine whether they can compete with the best PPH in the industry.
There is no such thing as a perfect Sportsbook PPH service but SportsBettingSolutionAsia.com is definitively a contender for the position.  This is because they a history of providing quality services to bettors in Asia and around the world.  Furthermore, they are known for providing white label sports book solutions in South Korea, China, Japan, the Philippines and Vietnam.
SportsBettingSolutionAsia.com takes security and data protection very seriously. Thus, they have a 7 layer DDOS protection in place in addition to several redundancy and backup systems. As a top Pay Per Head, they ensure that your data is safe with several backup servers in different locations.
INFO ABOUT SPORTSBETTINGSOLUTIONASIA.COM PAY PER HEAD SERVICES
General Information
Inception: 2015
Software: Proprietary (DGSBased)
Price: $5
Contact: cs@sportsbettingsolutionasia.com
Telephone: 1-866-500-4934
Website: http://sportsbettingsolutionasia.com
Location: Costa Rica

Private Toll-Free Number Available: yes
Private Website: Yes
Current Promotion: 2 Week Free Trial
Types of Gambling Available
Sports Betting: yes
Live In-Game Betting: yes
Online Casino: Yes,
Racebook: yes
Live Casino: yes
Poker Room: no
Online Wagering Available: yes
Telephone Wagering Available: Yes
Mobile Platform Available: Yes
Player Bonuses Available: Yes
The SportsBettingSolutionAsia.com Registration Process
Finally, another sportsbook pay per head that makes things easier for agents to register and use their services. This is because opening a Pay Per Head Agent account only takes a few minutes.  In addition, no human interaction or deposit is necessary.  As soon as you fill out and submit the registration form, your account is ready to go!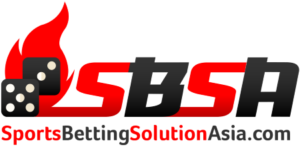 We also appreciate that no personal information is necessary to open your sportsbook.  Once you open your account, then you can easily communicate with their staff for anything extra that you need.
Thus, you get absolute privacy with no annoying emails or anyway for anyone to find out who you are. If they want to contact you, they just do it via the PPH website. In short, becoming a bookie with SportsBettingSolutionAsia.com is fast and easy.
SportsBettingSolutionAsia.com Pay Per Head Review
We have been doing Pay Per Head Reviews for quite a while now and the work is often repetitive.  This is because the majority of PPH services use the same sports betting software and without bothering to improve it. However, as we are making our SportsBettingSolutionAsia.com Sportsbook Pay Per Head Review we were shown that it is not always the case. This company went above and beyond In making their services stand out.
First off, it's cheap because they only charge $5 per player which gives you access to all of their features. No extra cost, no bait and switch and you even get premium live betting for your players.
Second, they offer the player interface in different languages other than English and Spanish. Thus, if you have or want Korean, Vietnamese, Chinese, Japanese and Filipino players they are perfect for you.
SportsBettingSolutionAsia.com Player and Agent Software Review
The agent/bookie interface for SportsBettingSolutionAsia.com is pretty good. When you first login, you will not believe that DGS is the core of the software.  They have taken the DGS software and truly made it their own.
Needless to say, navigating thru the multiple features, reports and options with Sports Betting Solution Asia is easy. At a glance, you easily see your daily, weekly and monthly sportsbook statistics in a neatly and orderly fashion.  Furthermore, the dashboard interface also shows the top winners and losers along with the overall gambling balance.
The player/bettor management has many options to help you create, edit and manage your players.  If you want to give you player a lower limit on sports betting no problem.  If you do not want to give them access to the live casino or racebook not a problem. In addition, you can even turn a credit play to a post-up one and vice versa because of the crediting features.
To us, one of the best features of this Sportsbook Pay Per Head is the betting control you have over your players.  For example, if you have a sharp player that always win on certain type bets or sports you can manage the risks. This can be done by limiting the wagers and payouts for specific sports, bet types, point buying and more.
The player gambling interface is pleasing to the eye, simple and easy to use.  However, if you do not like basic setup, you can also request your own site to meet your preferences. Either way, your players will find it easy to place their bets on the mobile and PC website.  Whether they sports bettors, horse bettors or casino players they will love the gambling interface.
Our Opinion and Recommendation
SportsBettingSolutionAsia.com is a breath of fresh air in an industry that focuses on quantity first and quality second. We strongly recommend this Sportsbook pay per head because they offer everything a bookie needs to operate a full sportsbook.
It is hard to beat the $5 per player price because it includes Live in-game wagering and phone wagering.  These are options that usually given at an extra cost with most Pay Per Head providers.  When you add this to a top notch customer service and excellent betting software you get a winning combination.
In conclusion, they are a solid organization and you really get your money's worth.

If you are looking for a top PPH service, take a look at our list of the best Sportsbook Pay Per Head providers. These are the Highest rated services according to our Sportsbook Pay Per Head Reviews.

Sports Betting Solution Asia
Average rating:
4 reviews
Mar 28, 2023
My Software
This is the software that I have been using for years and there has been no reason for me to move to another company. They offer everything I need to make my job easier.
Jul 15, 2021
Five out of Five
Running a sportsbook in Asia is made easy with Sports Betting Solution Asia. Also, its solutions are affordable. My players are happy because they can wager on sports whenever they want.
Aug 19, 2019
Great Site
Ever since I moved my sportsbook with them, I have an easier time managing my sportsbook. Its easy to configure, and I find it easy to offer Asian lines to my players. Customer support is great too.
Apr 15, 2019
Great site
I've been managing a sportsbook for an Asian market, mostly football and basketball. Its been really great doing it with their site. 2 years in and no problems whatsoever. Players are happy with the site, no lag, no problems.