WarHorse Gaming Projects in Nebraska to Improve Local Economy
According to the casino news reports, several WarHorse Gaming projects in Nebraska will improve the state's economy. WarHorse Gaming is the economic development arm of the Winnebago Tribe. Also, it plans to open two brick-and-mortar casino resorts in the Cornhusker State.
The construction of the WarHorse Casinos in Nebraska's two largest cities—Lincoln and Omaha—represents a significant boost to the state's economy. The state's move to legalize casinos like those in Las Vegas at licensed horse racetracks has the potential to stimulate local economies. The two WarHorse projects are scheduled to debut in 2019, revolutionizing the state of Nebraska's tourism sector.
Both projects include plans for continuous extensions to bring more amenities and accommodation options, including hotels with around 200 rooms each. The operator's dedication to responsible gambling has been crucial in ensuring a secure site, winning players' trust, and building a name for itself as an industry leader.
WarHorse Gaming Projects in Nebraska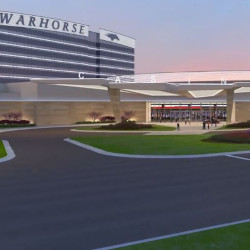 In September 2022, the temporary WarHorse Casino Omaha debuted with over 400 slot machines and pari-mutuel simulcast wagering. With the opening of this gambling parlor in the Horsemen's Park infield, the operator officially launched its Omaha operations. As a result, WarHorse Gaming applied to add sports betting to the venue's offerings. There are no plans of investing in an online casino.
After 1 November, WarHorse can provide sports betting in specific locations after receiving clearance from the Nebraska Racing and Gaming Commission. Kambi has been brought in as a partner for the company's sports betting activities so that it may benefit from the supplier's extensive background working with tribal gaming operations. The WarHorse's dedication to providing its customers with a first-rate sports betting experience is shown in this partnership.
The timing of the introduction of sports betting in Omaha is significant since it falls at the height of the football season. Sports fans will finally be able to show their support for their teams when the NFL and the NCAA take center stage. In addition to boosting the Iowa economy, legalizing sports betting should reduce the number of out-of-state visitors.
The opening of WarHorse Casino in Nebraska could not have been more timed, given the state's growing popularity for gambling. Recent legislative changes and high-profile launches are expected to improve the gaming scene in the state while also boosting local economies. WarHorse Gaming's mission is to revolutionize the gaming industry in Nebraska by providing the best possible gaming and sports betting experience for players.
Aside from a brick-and-mortar casino, you can also play games at online casinos. You can check out Mega Pari Casino and other online casinos available online.
Start a bookie business with PricePerPlayer.com today!

Sportsbook Pay Per Head Providers
Average rating:
0 reviews