Encore Boston Harbor Workers and Casino Prevent Strike with New Deal
The Encore Boston Harbor workers union agreed to a new deal with Wynn Resorts to avoid a scheduled strike. Both parties announced the development on June 29. Also, it came after they expressed their satisfaction with the terms of the deal. In addition, they believe the agreement fulfills the employees' demands for better benefits, job security, and higher wages.
According to PayPerHead reports, UNITE HERE Local 26 praised Wynn Resorts management for showing leadership through the deal. Also, they are happy with the benefits and higher salaries for workers. The union also said that members are relieved that the spirit of partnership prevailed during the discussions.
Both parties did not disclose the details of the agreement. However, UNITE HERE is optimistic that the deal features benefits and wages above industry standards.
Encore Boston Harbor Workers Agree to New Deal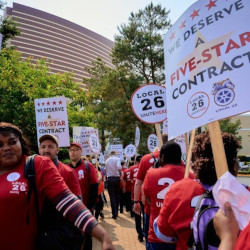 Workers in various hospitality-related occupations are represented by UNITE HERE Local 26 and Teamsters Local 25, including housekeepers, bartenders, cocktail servers, delivery drivers, and bar porters. Since the last contract ended in April, Encore Boston Harbor casino owner Wynn Resorts of Las Vegas has been pressured to secure a new agreement. If a deal was not reached by the deadline, union officials threatened to start a 24/7 picket line.
Encore Boston Harbor, pleased with the decision, said the agreement reflects the company's dedication to offering great wages and benefits, helping to make Encore Boston Harbor one of the most desirable places of employment in the Massachusetts hospitality sector.
While not perfect, the contract did a good job of reducing pay gaps and enhancing employee working conditions. With the provisional agreement, Encore Boston Harbor and its hardworking staff can look forward to a new age of collaboration and amicable relations, guaranteeing a brighter future for everybody.
In February, the Massachusetts Gaming Commission (MGC) authorized Wynn Resorts to develop a new structure next to its Encore Boston Harbor casino to accommodate new services, such as sports betting and poker. The verdict was reached after a casino vote from 2013 was interpreted favorably, paving the way for legalized gambling on both sides of Route 99. Wynn's expansion ambitions are considered a major milestone in the developing gambling industry in Massachusetts, especially considering the state's recent legalization of sports betting.
You do not need a huge corporation like Wynn Resorts to learn how to be a bookie. All you need is a pay per head solution, and you are set. However, you must know some bookie marketing strategies to grow the business.
Start a bookie business with 9DollarPerHead.com today!

Sportsbook Pay Per Head Providers
Average rating:
0 reviews