NCAA Tournament Picks – St. Peter's Hopes Cinderella Run Continues with Final Four Berth
The Peacocks of St. Peter's have confounded all expectations in this NCAA Tournament. That is an understatement. But they are not looking for a participation trophy. They haven't just had the luck of the draw; they have taken down some formidable opposition on their way to being on the doorstep of the Final Four.
That's what BetAnySports customers will see them playing for on Sunday, as they take on the North Carolina Tar Heels in a game that tips off at 5:05 PM ET at the Wells Fargo Center in Philadelphia.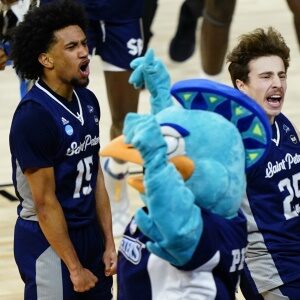 When you have beaten Kentucky (one of the top teams in the nation), Murray State (which was on a 21-game winning streak) and Purdue (a monster team, both inside and outside), it's no accident. And there is no huge secret as to how this has happened. Those three opponents have combined to shoot just 40% from the field against them. For a team not starting anyone over 6-7, that is remarkable.
That St.Peter's (22-11) knows how to defend is not a big shocker. After all, they are seventh-best in the nation in Effective Field Goal Percentage defense, and with Metro Atlantic Defensive Player of the Year KC Ndafo, they are 12th in the country in two-point defense. So they haven't exactly had to explode on the offensive end to advance.
For those thinking about becoming a bookie, that's a good thing, because the numbers on offense aren't tremendous. St. Peter's is outside of the top 300 when it comes to two-point shooting percentage (46.1%), and they shoot threes only 26% of the time. They are also just 298th in the country in Offensive Turnover Percentage.
NCAA Tournament Picks – NCAA Basketball Betting Odds
In the NCAA Tournament betting odds posted on this game by the folks at BetAnySports, North Carolina is laying points:
North Carolina Tar Heels -8.5
St. Peter's Peacocks  +8.5
Over 137.5 Points -110
Under 137.5 Points -110
What's interesting about North Carolina's 27-9 record is that eight of those nine losses have come by nine points or more. But this is a team that has clearly been coming on at the end of the season for coach Hubert Davis. Toward the tail end of the ACC campaign, they ruined Mike Krzyzewski's last home game at Duke wih a decisive win. And they have scored wins over Marquette, Baylor and UCLA in this tournament.
UNC is going to get more than its share of defensive rebounds; they are, in fact, second in the nation in that department. So St.Peter's is going to have to be better than usual in shooting the ball.
And on the glass, we're not sure that anyone on the Peacocks' side can match up too well with 6-10 Armando Bacot, who is one of the best rebounders – both offensively and defensively – in the nation.
St.Peter's needs to figure out a way to induce fouls and get to the line, because that's where almost 22% of their points comes from. But the Tar Heels don't let their opponents get to the charity stripe very much, and that's a major difference-maker here. if St. Peter's has to create more of its own offense with field goal attempts, this lead could get stretched. Under the circumstances, this may not be an unreasonable number to lay.

It's down to the nitty-gritty, and there are goodies awaiting you at BetAnySports during March Madness, as you can get reduced juice, as well as real-time wagering through a number of different processes……… Make your deposits with a credit card, or the digital currency of Bitcoin, for which you will never incur a transaction fee!