PelicanPHH.com does not have a lot of reviews online, which piqued our curiosity. After all, how will you ever find out about the quality of a pay per head service without reading pay per head reviews? Since we wanted to know more about PelicanPPH.com, we decided to go ahead and feature them in our PelicanPPH.com review and see what they have to offer. With different payperhead services, its hard to choose one, so we'll give you the main points on why or why not their services are worth your time and money.
INFORMATION ABOUT PELICANPPH.COM PAY PER HEAD SERVICES
General Information
Inception: 2015
Software: DGS
Price: $8 and above, depends on number of players
Contact: info@pelicanpph.com
Telephone: 1-877-745-2303
Website: www.pelicanpph.com
Location: Costa Rica
Private Toll-Free Number Available: yes
Private Website: Yes
Current Promotion: none. site demo available
Types of Gambling Available
Sports Betting: yes
Live In-Game Betting: yes
Online Casino: Yes
Racebook: yes
Live Casino: no
Poker Room: no
Online Wagering Available: yes
Telephone Wagering Available: Yes
Mobile Platform Available: Yes
Player Bonuses Available: Yes
The PelicanPPH Registration Process
We must admit, for a site that has a modern look and feel, they have a lot of work needed on the back-end of their software. we kept on getting errors which made us unable to sign up quickly. And since we work unusual hours, we were unlucky enough to register outside of business hours, and the live chat option was offline. This is an immediate turn off for us. They can actually lose business from a faulty sign up process. If they can't streamline a simple signup process, then what does it say about the rest of their services?
Anyway, we eventually were able to get into their site. Getting set up was confusing for us because of the price tiers. You see, when you visit their site, they keep saying "as low as $3". This was enticing for us, since the best sportsbook pay per head we know charges $5. But apparently, the $3 per head rate will only apply to you if you have a large operation. If you have less than 50 players, then the rate jumps to a very steep $12 per head.
PelicanPPH.com Sportsbook Pay Per Head Review
At first glance, we would have never used PPHintl.com because their website has not been updated in a long time.  That or it was done by the owner's teenage son in order to save a couple of bucks. However, once we logged in the agent website, it was a totally different story.
For the cost, they seem to offer industry standard prices at $10 per head.  However, keep in mind that there is extra charge if your players place their wagers by telephone.
In addition, they employ some of the best IT tech in the industry and a crack team of customer service agents. PPHintl.com prides itself in offering a full sportsbook software that is competitive enough to take on the big gambling operations.
PelicanPPH.com Player and Agent Software Review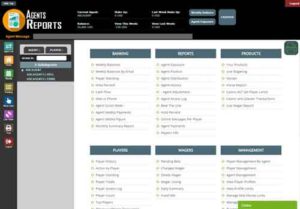 As you can see in the screenshot, the site layout is easy enough to understand. It looks a bit plain, and maybe outdated. But it gets the job done, so it does not matter much. What really bothered us, was that we could not see how much our fees were. So if you join the site and start operating, you'd be very surprised at your balance come payment time. We had to search through the site to find out that we were actually going to end up paying more than the advertised $3. If we were creating player profiles, we wish there could have been a box telling us about our price tier so we knew we were going to pay more. 
I guess this does not matter much to them since they probably target the larger sportsbook operators. If you have a sportsbook that has at least 100 players, then you get the best price. Seems a little catch and bait in terms of the price. We would have preferred that the prices were stated clearly instead of us digging through their FAQs to find the rates. Everything else, line management, player management and report generation was working fine. 
As for the player site, it works. That's about it. There's nothing really enticing or eye-catching. Pretty average, which is unfortunate as most newer pay per heads have better-designed sites. 
Our Opinion and Recommendation
If you have a large sportsbook operation of 100 and more players, then this could work for you. But the unclear price rates, the long sign-up process, and the plain design is a bit of a put off. We feel that they just wanted to put up a pay per head service that works. Improvements and modernization of the site does not seem to matter, or they did not want to invest in them. If you have a provider that does not make the minimum effort to deliver top-quality software to you, then walk away and find someone who does. You deserve better, especially with the money that you invest in your bookie business. 
If you are looking for a top PPH service, take a look at our list of the best Sportsbook Pay Per Head providers. These are the Highest rated services according to our Sportsbook Pay Per Head Reviews.
Sportsbook Pay Per Head Providers
Average rating:
0 reviews