Riverside Casino Ready for Iowa Sports Betting
Riverside Casino and Golf Resort invested around $10 million last year to renovate their property. Most of the budget went into the creation of the Draft Day Sports Lounge. Although they are not expecting Iowa sports betting to be legal, part of why they did the project was in anticipation of that occurring.
As a result, their gamble paid off. Riverside Casino is ready to offer sports betting on August 15. Aside from the Draft Day Sports Lounge, the casino has new table stools and slots. In addition, they have a new fountain in the middle of the casino.
Riverside Casino designed the Draft Day Sports Lounge to be the home of an in-casino sportsbook. After the legalization of Iowa sports betting, the casino announced the lounge will be the home of the new ELITE Sportsbook.
Iowa Sports Betting Rules and Regulations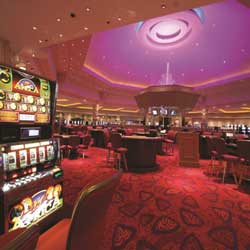 The Iowa Racing and Gaming Commission approved the rules for Iowa sports betting. Existing casinos in the states are trying their best to learn how to become a bookie in time for the upcoming NFL season.
However, Riverside Casino told sportsbook pay per head tutorials and news sites that they will launch their online gambling on August 15. Also, their lounge will be open to the public after the ribbon-cutting ceremony.
Aside from Riverside Casino 17 other casinos in the state are ready to accept wagers at noon of August 15. However, Riverside Casino will hold off the opening of its sports betting lounge until 4 PM so that it will not overlap with its sister casino's launch at noon.
Riverside Casino has opened the registration for its online sports betting app starting August 1. However, the software for sports betting will not accept bets until August 15. People who want to sign up for the app should visit the casino at least once.