DollarPerHead.com Pay Per Head Review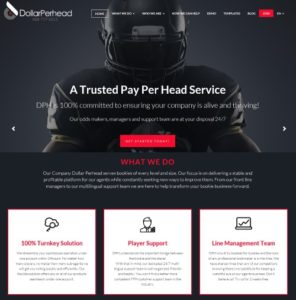 DollarPerHead is a pay per head company that is based in Costa Rica. Their company claims that their site is the only true pay per head company in Costa Rica that offers multiple languages. They also promote their decades of experience in the sports betting industry.
One thing we noticed off the bat, is that they do offer a variety of packages to accommodate bookies of all types. If you are new and want to start relatively small, they can offer you packages that will vary from packages that will be offered to veteran bookies. What we find amusing, is that their site is called DollarPerHead because, literally, it costs one dollar per head to use their service. This is, of course, a base price of sorts, so depending on what you want, you may end up paying more.
INFORMATION ABOUT DOLLARPERHEAD.COM PAY PER HEAD SERVICES
General Information
Inception: 2007
Software: DGS
Price: $1 and up
Contact: cs@dollarperhead.com
Telephone: 1-888-777-5613
Website: www.dollarperhead.com/
Location: Costa Rica

Private Toll-Free Number Available: yes
Private Website: Yes
Types of Gambling Available
Sports Betting: yes
Live In-Game Betting: yes
Online Casino: Yes,
Racebook: yes
Live Casino: yes
Poker Room: no
Online Wagering Available: yes
Telephone Wagering Available: Yes
Mobile Platform Available: No
The DollarPerHead Registration Process
Signing up for their site was quick. We gave our name, email address, phone number and left a message on their site. They got back to us within reasonable time to get us all set up.
When we were looking at the interface, we liked the modern look. The site may be a bit dizzying with the effects they put in their pages. But still, you will not have a hard time using their site. Everything you need is there.
DollarPerHead.com Sportsbook Pay Per Head Review
As mentioned earlier, the site was a bit dizzying. We were trying to read up on the services they offer and the tet just moves around when scrolling. This is one of the issues we found with their site. They want to be modern and edgy, but the flashy design went overboard. We do appreciate the modern look and feel, but we would prefer a cleaner layout and better user experience with their site.
As for site security, they seem legitimately safe, we never experienced lags or downtime as well. The rates they offer are very good too. There are tiers in their offerings, so your pay per head rate will largely depend on what you ultimately want to offer your players with.
DollarPerHead.com Player and Agent Software Review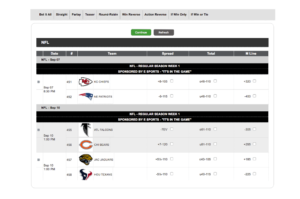 Before we talk about how the site works and looks, it is worth noting that they offer sub-agents in their site. This is good, since you have more functionality than other sites.
Now, the site is pretty straightforward. It is easy to use, both as a player and as a bookie. Their site promises security and a high uptime of 99%. We have no issue there so far. They also offer language options and have customer service support for certain languages, which is a plus.
What may be a bit confusing, especially as a bookie, is the services to offer. They do have tiers and package levels that will cater to the most basic, to the flashy packages like live Asian dealers and such. These things, you can already get from other pay per head providers, and they are not so expensive too. So while the $1 per head offer looks very attractive, in reality, you will be paying more than that to be able to offer your players a great sportsbook service.
Our Opinion and Recommendation
Overall, their services seem legitimate and the quality is there. The site is flashy, and they offer support in other languages. These things make up for a great pay per head service. It just seems weird that we expected much more, especially when they advertise their services to be a dollar per player. If we want to be able to offer a complete pay per head and sportsbook operation to our players, we will have to fork out more than a dollar. And if we do reach a higher price range, but still cheap, there are better options in the market.

If you are looking for a top PPH service, take a look at our list of the best Sportsbook Pay Per Head providers. These are the Highest rated services according to our Sportsbook Pay Per Head Reviews.

DollarPerHead.com
Average rating:
4 reviews
Apr 18, 2020
Paying
I played with this site for about 6 months and initially collected a couple payouts. The when I hit for almost $6000 I can't get paid. I would avoid playing with anyone connected to them. They are not a casino but a place where bookies open accounts. AVOID THESE PEOPLE. CHEATS and they do not help you get paid at all
Hi Daniel, thanks for the Review of DollarPerhead. I would contact the bookie who took your bets as technically, DollarPerHead just provides the software and the website to the bookie so they other then shutting their bookie agent down, they would not be able to help you out with collecting your money.I would recommend contacting a sportsbook review group that might be able to help you out like SBR or SportsbookSOS
Mar 1, 2019
good deal, great service
I think they are one of the bettor pay per head services out there. They have a good platform and my players never complain about their services.
Feb 28, 2019
Trial
Tried their services out for a couple of weeks but I always thought there was something missing. Switched to another site and I realized I needed a site that I could fix easily. This site is a no-no for me.
Feb 20, 2019
not that good but decent
I have used this PPH for a for a few months but I don't think its as good as you guys make it sound to be. While decent, the software is not that great and there can be extra charges for extra features