2018 Top NFL Draft Prospects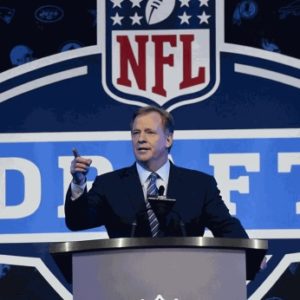 In just a few days, the 83rd annual meeting of the NFL League franchise will take place in Arlington, TX. This year, The Cleveland Browns will have the first selection while the Green Bay Packers will have the most picks. In this article, we will take a look at the 2018 Top NFL Draft Prospects and why they are in the top of their class.
For the moment, speculations are running high amongst fans, bookies, online sportsbooks and even sportsbook pay per head companies. This is because between April 26 thru 28, 256 athletes will up for grabs by NFL teams.
In addition, this year the draft will be quarterback heavy with potentially 4 signal callers in the top 10. Even though the NFL Draft is really just a big guessing game, we thought that we should at least name the top NFL prospects.
Saquon Barkley, RB for Penn State

Barkley is considered a top 5 pick because he is a tremendous receiver on to of being one of the best running back in the country. In addition, Barkley caught 54 passes for 632 yards in addition to returning 2 kickoffs for touchdowns in 2017.
Most sportsbook pay per head reviews believe that he will be picked up by the Browns as their No. 1 or No. 4 pick.
Denzel Ward, CB for Ohio State
At 5'10", Ward may be one of the smaller players currently in the NFL Draft thus year but we have high hopes for him.  This is because he does not allow easy throws.  In fact, in 2017 the defender only allowed 223 receiving yards on 53 targets.
Tremaine Edmunds, LB for Virginia Tech
Edmunds is one of the youngest players in the NFL Draft this year because he will turn 20 in May.  This teenager has been wreaking havoc in the ACC with 32.5 stops with 10 sacks in 2016 and 2017. In addition, the 6'5" and 250 pound LB delivered 100 tackles for Virginia Tech.
2018 NFL Draft First-Round Order
Cleveland Browns
New York Giants
New York Jets (via Indianapolis)
Cleveland Browns (via Houston)
Denver Broncos
Indianapolis Colts (via New York Jets)
Tampa Bay Buccaneers
Chicago Bears
San Francisco 49ers
Oakland Raiders
Miami Dolphins
Buffalo Bills (via Cincinnati)
Washington Redskins
Green Bay Packers
Arizona Cardinals
Baltimore Ravens
Los Angeles Chargers
Seattle Seahawks
Dallas Cowboys
Detroit Lions
Cincinnati Bengals (via Buffalo)
Buffalo Bills (via Kansas City)
New England Patriots (via Los Angeles Rams)
Carolina Panthers
Tennessee Titans
Atlanta Falcons
New Orleans Saints
Pittsburgh Steelers
Jacksonville Jaguars
Minnesota Vikings
New England Patriots
Philadelphia Eagles