SBPPH.com Sportsbook Pay Per Head Review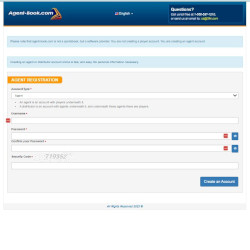 SBPPH.com is a relatively new PPH provider. It was launched during the pandemic in 2022 without any fanfare. Thus, our SBPPH.com sportsbook pay per head review will show what the new kid has to offer to bookies worldwide.
If you want a reliable and affordable pay per head service, you might want to check out SBPPH.com. We have been using its pay per head sportsbook since its launch, and we are satisfied with its features and customer support.
If you are looking for a sportsbook pay per head service, you might want to consider some good qualities that can make your business more successful and profitable. We tested SBPPH.com's reliability, security, flexibility, affordability, and reputation.
Like our other sportsbook pay per head reviews, we strive to remain unbiased with our SBPPH.com review. However, we think that it is a good choice for bookies.
INFO ABOUT SBPPH.COM PAY PER HEAD SERVICES
General Information
Inception: 2022
Software: DGS
Price: $5 or less
Contact: info@sbpph.com
Telephone: none
Website: SBPPH.com
Location: Costa Rica

Private Toll-Free Number Available: yes
Private Website: Yes
Current Promotion: 2 Weeks for FREE
Types of Gambling Available
Sports Betting: yes
Live In-Game Betting: yes
Online Casino: Yes,
Racebook: yes
Live Casino: yes
Poker Room: Yes
Online Wagering Available: yes
Telephone Wagering Available: Yes
Mobile Platform Available: Yes
Player Bonuses Available: Yes
The SBPPH.com Registration Process
Registering for an account with SBPPH.com is straightforward. Also, you do not need to submit any personal or financial data. Instead, you need to supply a username and password. In addition, you need to indicate whether you need an agent or distributor account.
An agent account only has players to take care of. On the other hand, you need to handle various agents and their players when you choose to be a distributor.
SBPPH.com Sportsbook Pay Per Head Review
First, SBPPH.com offers a competitive price of $5 or less per active player per week. It means you only pay for the players who place bets on your site, not for the ones who sign up or browse. You also get access to a free trial period of two weeks, so you can test their service before committing.
SBPPH.com has a professional and responsive customer service team that is available 24/7. You can reach them by phone, email, or live chat anytime you need assistance or have questions. Also, they are friendly and knowledgeable and will help you resolve any issues quickly and efficiently.
​
SBPPH.com Player and Agent Software Review
After you log into your agent or distributor account, you gain access to a dashboard. It has all the tools and features you need to run the bookie business. Also, you do not need a tutorial to learn how the bookie software works.
Player Management Features
SBPPH.com has user-friendly and secure software that is easy to use and manage. You can monitor your players' activity, balance, and history in real time. In addition, you can generate reports and analytics to help you optimize your business. Your data is protected by encryption and firewall technology, so you do not have to worry about hackers or fraud.

Player Sportsbook Website and Interface
SBPPH.com provides a variety of betting options for your players. You can offer sports betting, casino games, live betting, horse racing, and more. Also, you can customize your lines and limits and adjust the juice and payouts. In addition, your players will enjoy the convenience and flexibility of online or phone betting.
Our Opinion and Recommendation
In conclusion, SBPPH.com is a bookie pay per head service that I highly recommend to anyone who wants to run a successful online bookie business. They have everything you need to offer a quality service to your players and make a profit.
If you want to learn more about them, click the banner below.

If you are looking for a top PPH service, take a look at our list of the best Sportsbook Pay Per Head providers. These are the Highest rated services according to our Sportsbook Pay Per Head Reviews.

SBPPH.com
Average rating:
0 reviews