PayPerHead.co Sportsbook Pay Per Head Review
While PayPerHead.co is not as well-known as some of the bigger bookie PPH companies, it is by no means inferior. In fact, many of their clients and gambling reviews believe that they are actually superior to many of the big brand PPH providers. In our PayPerHead.co Sportsbook Pay Per Head Review, we intend to prove whether their product deserves their stellar reputation or not.
PayPerhead.co has been providing bookies a solid and profitable experience in the sportsbook industry since 2007. They operate out of Costa Rica and have an impeccable track record when it comes to customer satisfaction. This is because their support and sales staff are always willing to go above and beyond to ensure a fast and reliable service. Of course, it also helps that they have a 99% uptime rate.
However, that is only the top of the iceberg.
What sets them apart from the competition is their proprietary bookie pay per head platform with three different sportsbook software. This means that bookies are able to choose between DGS, ASI, and their ASI-Enhanced sportsbook software to run their operation. They are the only Pay Per Head operation that currently offers that kind of service.
INFO ABOUT PAYPERHEAD.CO PAY PER HEAD SERVICES
General Information
Inception: 2007
Software: Proprietary
Price: $8 or less
Contact: info@payperhead.co
Telephone: 1-855-978-8883
Website: payperhead.co
Location: Costa Rica

Private Toll-Free Number Available: yes
Private Website: Yes
Current Promotion: 4 Weeks for FREE
Types of Gambling Available
Sports Betting: yes
Live In-Game Betting: yes
Online Casino: Yes,
Racebook: yes
Live Casino: yes
Poker Room: no
Online Wagering Available: yes
Telephone Wagering Available: Yes
Mobile Platform Available: Yes
Player Bonuses Available: Yes
The PayPerHead.co Registration Process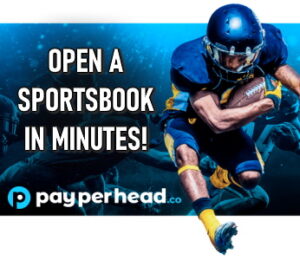 When we initially went on their website, we were at first skeptical. This is because instead of just signing-up for their service, we had to fill out a contact form.  For us, it seemed like an extra unwanted step. Especially since most Bookie PPH just allow you to startup right away without having to contact anyone.
However, we do have to admit that after submitting the contact form, the signup process was fairly fast and efficient. We did not keep track of the time but it only took a few minutes to get our Sportsbook PPH account up and running.
After talking to their representative, they old us that they could setup an automatic signup system. However, in order to give bookies the best service possible, they require contact with their agents. This is because they want to make sure that the bookie understands the many different type of options they offer.
In addition, by talking with the bookie immediately, they can give them exactly what they want right from the start. This in turn keeps them from having a lot of back-and-forth after they have opened their account.
PayPerHead.co Sportsbook Pay Per Head Review
Before we begin talking about the capability and features of their Pay Per Head service, let's talk about price. This is because no matter how good the service is, if the price is too high, it is not worth it.
PayPerHead.co seems to have come up with a good price-to-service balance at $8 or less per player. The price you pay per player will depend on the number of players you have. Therefore, the more players you have the cheaper their service.
While they are not the cheapest PPH in the industry, they have competitive rates. Especially for the quality of the service they offer.
PayPerHead.co Player and Agent Software Review
After logging into your PayPerhead.co bookie account, you will see a dashboard that showcases all of the sportsbook management options. At a glance, you can see and access all of the tools you need to successfully manage your sports betting operation.
Player Management Features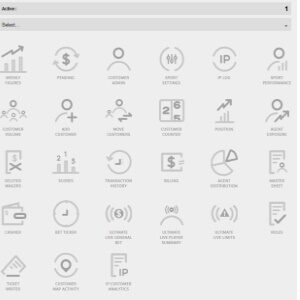 When it comes to player management, what differentiates them from other services are the number of features available. Creating new clients, managing gambling options, setting limits or settling the balances are just some of the options available. However, what sets them apart from the competition are a few features that are not found with most Pay Per Head Services.
One example are the wagering restrictions. Unlike other system, they allow you to set limits on early wager, contest, teasers and so on. In addition, we like that you can get reports on individual players directly from their account management tab. This is because with several other PPH, you have to go thru the reporting system which is an extra step.
For their player management features, PayPerHead.co puts more emphasis on managing individual players which is a plus in our book. This is because it lets bookies focus on individual players for risk management and for better service.
In terms of general sportsbook reports and statistics, bookies are able to view all of the information pertinent to their sportsbook at a glance. We do wish that you were able to set date ranges when viewing reports. However, this is just us nitpicking as overall, it is a solid management system that is efficient and user-friendly.

Player Sportsbook Website and Interface
When we first took a look at the sports betting options, we were blown away. This is because they have something for everyone with over 100 betting markets and thousands of daily offerings. In addition, if you have horse bettors, they will love PayPerHead.co. This is because they have over 220 horse tracks available and also a wide array of dog races to bet on.
If your sports bettors are looking for more betting options, PayPerHead.co also has a Prop Bet Builder. This basically allows your players to create their own prop bets. Of course, no sportsbook would be complete without live betting options. In this instance, they went out of their way with their Ultimate Live betting with hundreds of options available.
The platinum virtual casino and live casino was nothing outstanding and kind of plain. However, bookies are not looking to offer a great online casino experience. If they did, they would be looking at casino platforms instead.  The casino platform is just there as an extra to give players something to do in between games. Therefore, while disappointing, we are not taking points off for it.
On an interesting note, PayPerHead.co offers bookie the option to run different types of contests for their sportsbook. These include march madness bracket, pools, squares and last man standing contests.
Our Opinion and Recommendation
All-in-all, we and our test players had a very solid and enjoyable experience with PayPerHead.co. We can guarantee that your players will have a great time using their sports betting interface as it is easy to use and understand.
As to bookies, they will love the many options available for managing their gambling operation. This is because they have all of the tools necessary to maximize profits from reports to risk management systems.
If you are looking to open a bookie business or thinking about switching service, PayPerHead.co is a great option!

If you are looking for a top PPH service, take a look at our list of the best Sportsbook Pay Per Head providers. These are the Highest rated services according to our Sportsbook Pay Per Head Reviews.