WagerHome.com Sportsbook Pay Per Head Review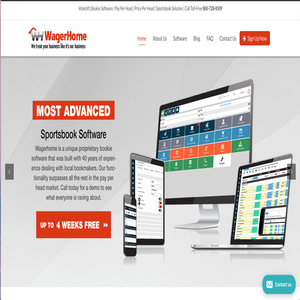 WagerHome.com is a Sportsbook Pay Per Head company in San Jose, Costa Rica. Not a lot is known about this PPH except they claim to have the "#1 bookie pay per head software". Of course, this is a bold statement in the Pay Per Head industry. Therefore, our WagerHome.com is sportsbook Pay Per Head Review will decide whether it is true or not!
According to their website, they have been in business since 2006. However, we could not find any trace of them in 2006.  Here is what we know. The domain name was home to a sportsbook in 2008 and it went out of business in 2009. In 2011, the domain name became the front for a sports betting software company.
Their original intent was to be a sports betting software provider for bookies. Later down the road in 2013 they became a Bookie pay Per Head service. According to their website, they have excellent a 99.9% up-time with an experienced management team and thousands of customers.
WAGERHOME.COM RATING DETAILS
---
Agent Interface Rating:

8.0 out of 10

Player Betting Platform Rating:

8.0 our of 10

Cost of PPH Rating:

6.0 out of 10

Reporting:

8.0 out of 10

Customer Service:

4.0 out of 10
TOTAL RATING: 6.80 out of 10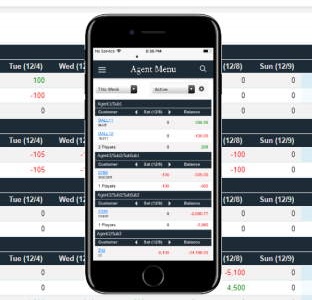 INFO ABOUT WAGERHOME.COM PAY PER HEAD SERVICES
General Information
Inception: 2011
Software: Proprietary
Price: $9 to $12
Contact: info@wagerhome.com
Telephone: 1-877-722-0984
Website: WagerHome.com
Location: Costa Rica

Private Toll-Free Number Available: yes
Private Website: Yes
Current Promotion: 4 FREE Weeks
Types of Gambling Available
Sports Betting: yes
Live In-Game Betting: yes
Online Casino: Yes,
Racebook: yes
Live Casino: no
Poker Room: no
Online Wagering Available: yes
Telephone Wagering Available: Yes
Mobile Platform Available: Yes
Player Bonuses Available: Yes
The WagerHome.com Registration Process
Unfortunately, the WagerHome.com registration process is one where you have to contact them first. Once again, we do not understand how a Pay Per Head company is not able to have an automated process.  All of the top PPH providers have it. Therefore, in order to be competitive, a PPH company needs it.
Anyway, we chose to fil out the contact form to see how fast someone would respond to us. This is because no one was available by phone or by live chat.  Not a good start.
It took about a week before someone got in contact with us and about 3 days before we could start. Our first complaint is that even though they advertise 4 free weeks, they need a deposit first. In our opinion, this is a dirty trick.
WagerHome.com Sportsbook Pay Per Head Review
First off, the WagerHome.com is not working properly. It has a lot of images that do bot show up and weird gaps. In the content. Needless to say, this would make anyone looking for a Bookie PPH skeptical about them.
They have two types of pay per head packages/prices. The first is for $9 per player and the second for $12 per player. The main difference between the two is that the $12 per payer option includes live in-game betting. Considering the current price in the Sportsbook PPH industry, this is high even in comparison to PPH that charge extra for live betting.
Wager Home Player and Agent Software Review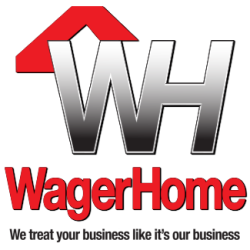 Now that we know the basics about WagerHome.com, let's examine their Agent Pay Per Head platform and sports betting software.  Oddly enough, once we got in the backend of the sports betting platform, it was better than we thought. Does it deserve to have the reputation as the #1 bookie pay per head software? Probably not.
In terms of player management, the software is average and does everything you need. It is lacking some in the reporting department but it is still a solid platform. Accounting and bonuses are a bit of a mess but doable with a little ingenuity.
The sports betting odds management system is awesome as it really gives bookies a lot of control over the lines. The only reason why they have such a high agent platform and interface rating is because of that.
We chose the PPH option with the live betting platform available to see whether it was worth it or not. The Live betting integrates EZ Live Betting which gives players many live betting options for hundreds of sports leagues. Furthermore, they also have a prop bet builder for their customers which is a nice addition.
Other than that, the player sportsbook website and interface is nothing special but does the job correctly.
Our Opinion and Recommendation
WagerHome.com has a lot of potential thanks to its odds management platform. Players will enjoy using EZ Live Bet but that is about all there is in their favor. For the cost per head, it is expensive with or without the live betting platform.
In addition, we wonder why they even bothered saying they have a casino. It is pretty bad, archaic and does not even include a live casino.  While this is not a deal breaker, it is a good option to have for bookies wanting to expand their operation.
Overall, we cannot recommend them as a top PPH solution. There are many better options with equal or better PPH software for the same price or less.​

If you are looking for a top PPH service, take a look at our list of the best Sportsbook Pay Per Head providers. These are the Highest rated services according to our Sportsbook Pay Per Head Reviews.