Bengals and Dolphins Brawl – The Aftermath
The National Football League finalized the punishments for the Bengals and Dolphins brawl last weekend. According to the announcement, the NFL fined six players for their roles in the fight. The Cincinnati Bengals vs. Miami Dolphins game features some of the most controversial ejections in the current season.
It started when officials ejected Dolphins CB Xavien Howard and Bengals WR Tyler Boyd. It appeared that the two players slapped each other during a commotion on the sideline. Although there was physical contact between the two players, their ejections were too harsh.
Bookie PPH experts and NFL fans criticized the referees for the ejections. At most, the players deserve punishment. However, ejecting them was going too far. It seemed like an isolated case, but it escalated to a bigger brawl.
Bengals and Dolphins Brawl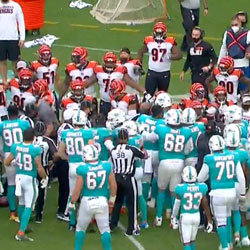 According to Bwager, benches started to clear after a late hit on Dolphins Jakeem Grant. The punt returner signaled for a fair catch, but a Cincinnati special teamer tagged him. According to the best sportsbook pay per head, both sides met in the midfield, and a fight broke out.
Dolphins head coach, Brian Flores, wanted to get on the action in midfield, but staff members and players stopped him. Although he was wearing a mask, it was clear that he was unhappy with the situation.
Flores might be upset at that moment, but he was happy in the end as his team got the victory. They trailed the Bengals 7-6 going into the second half. However, they scored 13 points in the final half to take a 19-7 lead.
On the other hand, the NFL fined Bengals Mackensie Alexander for $15,000. It was the most significant fine resulting from the brawl. The NFL also suspended Shawn Williams for a game due to a different incident during the same game.
Other players fined by the league are Mike Thomas, Emmanuel Ogbah, DeVante Parker, and Christian Wilkins. The league fined Mack Hollins twice because of excessive roughness and unsportsmanlike conduct.