2020 NCAA Player of the Year Predictions
The National Collegiate Athletic Association (NCAA) Division Men's Basketball Tournament is one of the most anticipated events in the United States.
It is a single-elimination tournament that features 68 college basketball teams. Branded as March Madness, the match will start on March 17. The championship game is on April 6 at Mercedes-Benz Stadium in Atlanta.
This tournament serves as the most intense, thrilling, and unpredictable games in college basketball. FanDuel's Futures Odds to Win the 2020 NCAA Men's Basketball Championship and promising players are one of the reasons why many hoops want to witness the March Madness every year. As such, emerging with the new season also means new players that would make noises in the court.
As the game approaches, it's time to acquaint yourself with several key names during the NCAA tournament that has a higher chance of making it as Player of the Year. Here are some of our early Player of the Year predictions.
Cassius Winston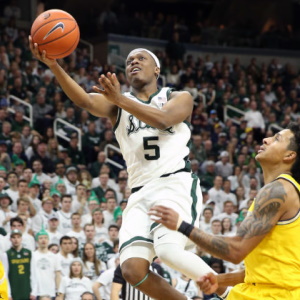 Winston is in Senior class and an impact point guard for Michigan State. Considered to be the best leader on the top team, Winston has a sure shot as a preseason player of the year.
He has a high basketball IQ that ranks among the best. Furthermore, he also possesses the impressive passing ability, outstanding vision, and exceptional ball skills.
Throughout his career, he developed a better defensive skill, coordination with his team, and contributed essential points on the board, leading to Cardinal's wins.
He was recently named outstanding Player of both the Big Ten Tournament and the NCAA Tournament East Regional.
Winston will also have a great chance to engrave his name in Michigan State history as the point guard who steered the school to its first championship in 20 years.
Jordan Nwora
Nwora is a Nigerian-American and currently a Junior and small forward for the Louisville Cardinals. He led the Cardinals to a No. 1 seed and an ACC title. He is one of the key players of the team.
During his sophomore year, he averaged 17.0 points, 7.6 rebounds, and 1.3 assists, becoming the Most Improved Player in the ACC compared to his freshman season, where he averaged 5.7 points, 2.2 rebounds and 0.4 assists per game.
Also ranked ninth among the ACC leaders in three-point field goal percentage, fourth in defensive rebounds, and twenty-second in minutes played during his sophomore season.
His effortless scoring capacity, high IQ, and exceptional awareness, In addition, he serves as a rebound and shooting threat to any opponent. He navigates well in court, leading to effective finish and solid scores.
Louisville Cardinals will inevitably lean on Nwora for an impressive turnaround. He expected to give coach Chris Mack his first Final Four in the following season.
Jalen Smith
Smith is a Sophomore and a power forward for Maryland Terrapins. He was in the Big Ten All-Freshman Team from 2018 to 2019 and a three times Big Ten Freshman of the Week.
Recently, Smith was in the 2020 Karl Malone Award Watch List as a top power forward, rated 18th overall player in the country during the preseason by Sports Illustrated, and forth contender for the Nation's Top Power Forward by Karl Malone.
He was also the number 18 overall player in the preseason by Andy Katz and rated the number 21 overall player in the country by CBSSports.com.
During his freshman year, he averaged 26.5 minutes per game and ranked third on the team with 11.7 points per game. He totaled 225 rebounds, making him 5th most for a freshman in Maryland's program history.
Smith is expected to dominate in both offense and defense. He will be Maryland's key player for reaching the Final Four during the upcoming season.
Myles Powell
Powell is a Senior and a shooting guard for Seton Hall Pirates. As a sophomore, he was named the Big East Most Improved Player. He was also listed in the 2019-2020 Jerry West Shooting Guard of the Year watch list.
Powell was also in the 2019-2020 Big East Preseason Player of the year due to his exceptional gameplay and outstanding statistics.
He scored with a game-high 27 points during the game with Wagner last November. This was the team's season-opening victory. He also led in scoring with 37 points on six three-pointers against Michigan State.
Furthermore, he contributed 26 points from the 83 by 66 win with Saint Louis. Furthermore, he was also the first Pirated named Big East Player of the Week in the US.
Powell is expected to lead Seton Hall Pirates to a Big East title and their first Final Four since 1989. He won't surely shy away to take the Pirates across the court and take the lead.
Udoka Azubuike
Azubuike is a Junior and plays center to the Kansas Jayhawks. He is a two-time Academic All-Big 12 selection in 2018 to 2019. In addition, he has a 74.4 field goal percentage in 56 games that he played.
He was also one of the Kareem Abdul-Jabbar Center of the Year Award Candidate, Preseason All-Big 12 Honorable Mention, and Academic All-Big 12 Second Team in 2017 to 2018.
The Kansas Jayhawks won all nine games that Azubuike played involving teams like Michigan State and Tennessee. He finished the season with an average of 13.4 points and 6.8 rebounds.
Azubuike recently gained 23 points and 11 rebounds during their game with Vermont. He also scored 23 points and nine rebounds last December versus Eastern Michigan. Furthermore, he also scored a career-high 29 points during their overtime win over Dayton.
Azubuike is anticipated for a strong comeback after the injuries he had last season. He is essential for the Jayhawks to reclaim a top spot at the Big 12. Combined with Devon Dotson, Kansas will be a tough opponent to beat.
Takeaway
It's still a few days away before the tournament will officially start, but eyeing on these outstanding players will give you a great preview to who will get the Player of the Year Award. Each will have a sure shot, but only one will surely prevail.