North Carolina to Have Limited Sports Betting
North Carolina legalized sports betting just in time for the start of the football season. In fact, it is the latest state to allow wagering in sports. However, it will have limited sports betting. People can only place their bet in two Cherokee casinos, which are found in the Appalachian Mountains.
In addition, North Carolina doesn't have mobile or online betting. However, the state does allow players to bet on college teams from the state. The state will not pay any integrity fees to sports leagues.
Since the US Supreme Court allowed states to legalize sports betting, 18 states have some type of sportsbook, including Nevada. Colorado residents have the chance to vote for sports gambling in a referendum on November 5. In addition, Massachusetts, Ohio, California, and Michigan have legislation filed by their respective lawmakers.
Limited Sports Betting in the Tar Heel State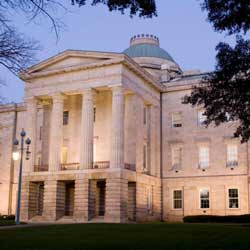 Governor Roy Cooper signed the sports betting bill into law that legalized the activity in the two tribal casinos in North Carolina. However, the law doesn't allow mobile betting. That's a shame considering other states are earning a lot of tax revenues from mobile sports betting.
North Carolina's limited sports betting is inconvenient for bettors. SportsbookPayPerHead.com found out that Harrah's Cherokee Casino Resort and Harrah's Cherokee Valley River Casino and Hotel are the exclusive sports betting providers. They are three to four hours away from Charlotte and five to six hours from Raleigh.
However, sportsbook pay per head analysts see it as a minor win for the gambling industry. North Carolina is historically opposed to any type of gambling expansion. As a result, we now have limited sports betting law.
Pay per head services providers estimate legal sports betting at the casinos to earn $1 to $1.5 million in tax revenues for the state each year. The state can earn more by allow more sports betting software providers to operate in the Tar Heel State.