247PPH.com Sportsbook Pay Per Head Review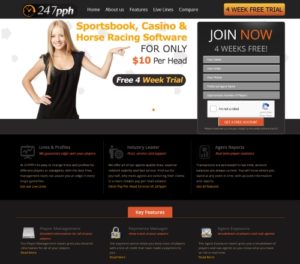 Get to know one of the popular sportsbook pay per head companies online in our 247PPH.com review. This sportsbook provider is part of the RDGCorp group. This means that the level of service is probably similar to that of its sister/mother companies. Which means, we don't really expect that much.
They are a decent sportsbook, as there are no claims of scamming, or difficulties with 247pph.com. We do mind that there are inconsistencies in their site, like the date when they are established. Maybe since they have so many companies, it can get confusing. But either way, it does not matter that much. It just raises some eyebrows, thats all.
INFORMATION ABOUT 247PPH.COM PAY PER HEAD SERVICES
General Information
Inception: 2011
Software: DGS
Price: $10 and up
Contact: n/a
Telephone: 1-888-200-1112
Website: www.247pph.com
Location: Costa Rica

Private Toll-Free Number Available: yes
Private Website: Yes
Current Promotion:  4 Week Free Trial
Types of Gambling Available
Sports Betting: yes
Live In-Game Betting: yes
Online Casino: Yes
Racebook: yes
Live Casino: yes
Poker: No
Online Wagering Available: yes
Telephone Wagering Available: Yes
Mobile Platform Available: Yes
Player Bonuses Available: Yes
The 247PPH.com Registration Process
Registration is pretty much the industry standard. However, getting log in information takes you about an hour or a few minutes more. So if your needs are time-sensitive, or you are running a schedule, keep this in mind. You do get a standard set of features that are, again, pretty standard.
247PPH.com Sportsbook Pay Per Head Review
First thing that we like, is that you get a set of player profiles you can just configure. We do find the features a bit lacking. Maybe we just needed to click more to find what we need, but we want an efficient service. We know of other bookie pay per head providers that give you everything you need in just one page.
This is very important, because this is your sportsbook. This will be the interface you will bee seeing on a daily basis, so if something is missing, then its not worth your time.
The site looks okay. Very simple, but crossed the line to being overly plain. Kind of like the software you would see in a boring box-type office. Also, if your players want to bet via the phone, their rate jumps from $10 to $15. This, we don't like. You can definitely find other providers that will offer you phone wagering without charging you an extra $5 per head, per week!
247PPH.com Player and Agent Software Review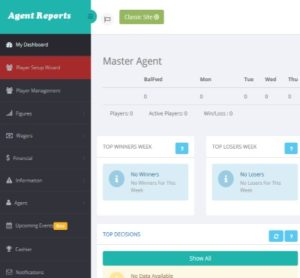 Again, the site still looks a bit plain ob both sides: for the agent and for the player. Its fine since it helps you see things easily. It does look boring when you put it side by side with other bookie pay per head sites. Its decent, it gets the job done, but that is pretty much it. There are no extra features that will make you go "wow".
And players can do better with more enticing interface than they have. Part of having a pay per head provider is the service if giving you a website where people can bet, right?
You, of course, would like it to be good. Their site works well, easy to use, no lag or delays. But, a bit drab. Not very enticing to players to stay on and place more wagers, which is what we would ideally want to happen.
Our Opinion and Recommendation
In our opinion, there is nothing wrong with their site. Its not bad to use their services. But their price range is at the high-end range of the sportsbook pay per head industry. And with that price point, we expect a lot more than what we are seeing with 247pph.com.
If you look at the value of your money, its pretty simple. There is more value with other sportsbook pay per head providers. If we were to put up our own sportsbook, we will not even think about visiting their site as an option. Our money could definitely go farther than we would if we paid them.

If you are looking for a top PPH service, take a look at our list of the best Sportsbook Pay Per Head providers. These are the Highest rated services according to our Sportsbook Pay Per Head Reviews.

247PPH.com
Average rating:
0 reviews