Antonio Brown Unhappy with the Steelers
Antonio Brown surprised fans when he came out in civvies during the last Steelers' game against the Bengals. What's shocking was the reason behind his benching. Initially, the team said the receiver was suffering from a knee injury. However, it turned out someone in the team made Antonio Brown unhappy.
In a surprising turn of events, Brown wants out of the Steelers. According to reports, the star receiver had an altercation with quarterback Ben Roethlisberger. Then, he went missing after the midweek practice. As a result, he found himself on the bench during gameday.
On Sunday, Brown showed up at Heinz Field expecting to play even after skipping practice. He might as well stayed at home and read how to be a bookie for dummies that day because coach Tomlin didn't allow him to suit up. He stayed at the sidelines until halftime.
Although the Steelers won the game, they missed out on the playoffs after the Ravens claimed the AFC North title. Several players stated the team struggled due to Brown's actions off the field.
Why is Antonio Brown Unhappy?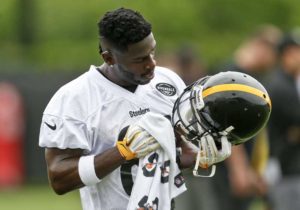 Brown has been the center of drama for the team in the past 12 months. However, the team put up with it because he's one of the top receivers in the NFL. Despite not playing the last game, he led the league with 15 touchdown catches. According to sports news, he recorded 104 receptions for 1,297 yards this season.
It was an eventful year for Brown. He has two lawsuits due to an incident in Florida last April. In September, he posted hateful messages on Twitter targeting a reporter. He also got in an argument with offensive coordinator Randy Fichtner during Week 2.
According to coach Mike Tomlin, the situation with Brown has been going on for a while. People have been covering up for him, but things got worst this year. He added that the team will not cover up Brown's mess anymore.
Brown is entering the third year of his five-year contract that's worth $72.7 million. He is going to get a roster bonus of $2.5 million at the start of the NFL year. If the Steelers want to trade him, it should happen before that date.