DGS Sports Betting Software Review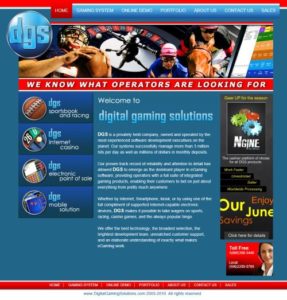 Digital Gaming Solution which is better known as simply DGS is a gambling software supplier based out of Costa Rica.  Even though DGS is best known for its Sportsbook software, but also offers horse racing, casino, point-of-sale and mobile solutions. In this DGS Sports Betting Software Review we will focus on their sportsbook solution.
DGS makes it possible to take wagers on sports, racing, casino games, and even Bingo. In addition, they boast having the "easiest-to-use call center clerk and lines management interface" in the industry. This is why DGS is the gambling platform for the North American market.
The DGS platform is fully integrated so that players are able to bet on anything at anytime.  Furthermore, they offer several other gambling platforms like the DGS EPOS which is an electronic point of sales system.  DGS EPOS is designed for land based operations and can be displayed on tote boards, plasma screens, TVs and monitors.
INFORMATION ABOUT DIGITAL GAMING SOLUTION
General Information
Inception: 1998
Address: La Sabana
Country: Costa Rica
Telephone: 1-866-398-5446|+506 2289 0780
Email: sales@dgscr.com
Website: www.dgscr.com
Services and Products
Sports Betting Software
Digital Gaming Software
Horse Racing
Internet Casino
Gambling Electronic Point-of-Sale
Mobile Solution
DGS Sports Betting Software Review
Let' be honest, the last time DGS updated their website Bitcoin was not around. We are not joking; their website went online in 2003 and has not been upgraded since then. However, this does not mean that their software has not been updated on a regular basis.
The advantage of using the DGS Sportsbook software is that they have a lot of experience installing their software. This means that when you decide to purchase or lease their gambling platform, the installation will be fast and efficient. In addition, they have an excellent IT and Customer Service staff that is always on hand to help out.
Manager and Customer Service Software Interface Review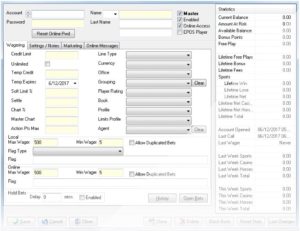 Even though the DGS manual is several hundred pages long, the actual use of the DGS platform is fairly straight forward.  As a result, the average customer service clerk can learn how to use the software in just a few days.  In addition, a wagering clerk will take learn the software in and out in about the same period of time.
The interface screen for the manager is pretty much the same as the one for a clerk.  This is because the only difference is the number of options that a manager will have over a clerk. Furthermore, one option we like about DGS is that it can easily integrate sports betting odds from various sources.
In terms of banking, our programmers found it fairly easy to integrate most banking options into the cashier.
Overall, the management interface is pleasing to the eye and easy to use because they have had years to perfect it.  Furthermore, they are tons of options and reports that can be generated to fully manage a successful sportsbook.
Player Sports Betting Platform Review
The advantage of using DGS is that any sports betting operation can customize the software to suit their needs. In fact, several of the top online sportsbooks in the world use a customized version of DGS.
To keep this DGS Sports Betting Platform Review fair, we are only reviewing the base model of the software. Needless to say, even the base model is a powerhouse of betting options for the players. In addition, it is clean and easy to navigate thru the many types of available bets.