NBA Playoff betting Update: Is Chris Paul out of the Playoffs?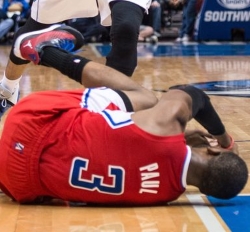 The Los Angeles Clippers are currently at 2-2 against the Portland Trail Blazers after game 4 of the playoffs. In this NBA Playoff betting Update, the Sports handicappers are weighing the odds on whether the Clippers can make it.This is because Chris Paul is out of the action and on the injured list.  On Monday night, he suffered a broken third metacarpal in his right hand.
Paul's injury occurred in the third quarter of game 4.  It took place while he was attempting to swipe the ball away from Trail Blazer guard, Gerald Henderson.  According to unofficial sources, the Clippers do not believe Paul will be able to return in the postseason.  Probably because Paul was seen leaving the stadium with a cast on his hand and his arm in a sling.
This is of course not certain as a final diagnosis is still pending on his injury and he is certainly not the only player in the league to have received an injury for this year's NBA playoff.  Stephen Curry himself was injured last Sunday.  In addition Blake Griffin of the Clippers had also re-aggravated his injured right quad.  It is still up in the air as to whether he will be back for game 5.
Odds are being Revisited
Several sportsbook pph review website have revisited the odds on the Clippers to win the championship. The odds are now at a +6600 odds to win the NBA championship according to online sportsbook Betonline.ag.  This is a big blow for the Clippers as only 4 days ago their odds were t +1800.
Many fans and basketball betting experts believed that this was the Clippers' best chance in a long time to win the championship and show the world that the Paul-Griffin-DeAndre Jordan was the new dream team but they will certainly not be able to prove it this year.
For those who will bet on the Clippers on Wednesday, the early odds have them at +2 point spread.