Novak Djokovic Qualifies for Ninth Wimbledon Final
Age is just a number for Novak Djokovic. Also, he is one match away from equaling the record of eight titles in Wimbledon. He qualified for his ninth Wimbledon final after defeating Jannik Sinner in straight sets.
According to bookie PPH reports, his 35th grand slam final appearance is now a record. Also, Djokovic will play Carlos Alcaraz in the final. He is the favorite to win his 24th grand slam title on Sunday. In 2023, he won both the French Open and Australian Open.
He lost one Wimbledon final in his career. Andy Murray bested him ten years ago.
Djokovic's Ninth Wimbledon Final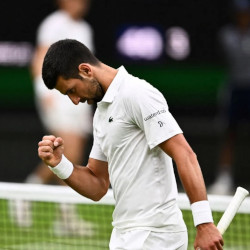 Towards the end of a tight third set, Djokovic, ever the showman, got into an exchange with a fan who had rejoiced after he botched a first serve at break point. Djokovic turned to the fan and pretended to wipe away tears after he ultimately held serve.
It was Sinner's first appearance in the final four of a Grand Slam tournament. However, he was no match for Djokovic's unrelenting brilliance.
The 21-year-old is widely recognized as one of tennis's brightest new talents and will undoubtedly return to this grand slam stage soon. However, the sport's grand old man continues to rule supreme at SW19.
According to the latest sports news reports, Sinner started well. He earned a break point in Djokovic's first serve game. However, he failed to unable to convert. Djokovic broke Sinner's serve in the match's first game, and the match swiftly descended into chaos from there.
In the opening set, Sinner had three break points to Djokovic's one but could not convert, while his opponent made quick work of his opportunity. After being broken early in the second set for the second time, Sinner's playing became rather reckless, and he seemed disheartened.
In an unusual sequence in the second set, umpire Richard Haigh penalized Djokovic for a hindrance after the Serb grunted after playing a backhand, giving the point to Sinner.
Do you own a sportsbook? Do you want to have more tennis bettors? You can get better sportsbook marketing results by avoiding copywriting errors.
Start a bookie business with PricePerPlayer.com today!

Sportsbook Pay Per Head Providers
Average rating:
0 reviews