Sheldon Adelson Supports Online Casino in Texas
Las Vegas Sands CEO and chairman Sheldon Adelson supports online casinos in Texas. It surprised many gambling industry insiders because he used to be against online gambling expansion.
Adelson even funded the Coalition to Stop Internet Gambling, a lobbying group that wants to maintain the ban on online gambling in most states. Thus, his latest action was out of the ordinary for him.
He hired eight Austin lobbyists to sway lawmakers in approving online casinos in the state. At present, the gambling industry in Texas operates in a legal grey area. Card rooms are operating across the state, but they charge for membership or seats. Thus, they avoided dropping a rake that is not allowed by state law.
Sheldon Adelson Supports Online Casino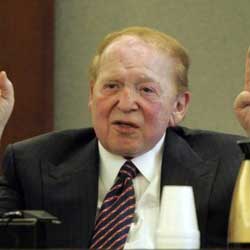 In 2019, local law enforcers raided two poker rooms in Houston. They said that such gambling venues were illegal in the state. The clubs' owners were charged with engaging in organized crime and money laundering.
According to Sportsbookpayperhead sources, Adelson's Las Vegas Sands is selling its two Las Vegas Strip assets. Based on rumors, the company will use the money to focus on its efforts in Asia and New York.
At present, Texas is against gambling. Several attempts to legalize casino gambling in the state failed. Representative Joe Deshotel proposed a constitutional amendment to legalize casino gambling along the state's coastal region. However, it was unable to prosper in the House.
If the lobbyists are successful, you can't still become a bookie in Texas. They are only pushing for online casinos in the state. Legal sports betting is another issue that needs to be addressed by lawmakers.
At present, Texans cross borders to do their casino gambling and sports betting. It is essential to read sportsbook pay per head comparison to find the right one for your needs.