TopPayPerHead.com Sportsbook Pay Per Head Review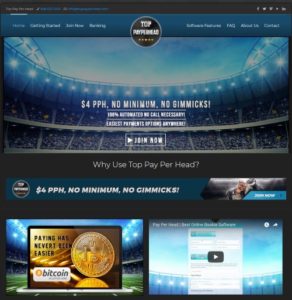 Even though TopPayPerHead.com has only been in business since 2017, they have quickly risen to the top of the industry.  This is because they offer a great PPH platform and competitive prices starting at $4 per player. Our TopPayPerHead.com Sportsbook Pay Per Head Review will go over why they are one of the best sportsbook PPH providers.
Like many other PPH companies, TopPayPerHead.com is located in Costa Rica.  Despite having been in business for only one year, they claim to have 14 years of experience in the industry. To us, this claim may be true because of the attention to details in their PPH agent interface.
Furthermore, they offer 24/7 customer service and advanced DDOS Site Protection for maximum client support.
TopPayPerHead.com RATING DETAILS
---
Agent Interface Rating:

9.0 out of 10

Player Betting Platform Rating:

9.0 our of 10

Cost of PPH Rating:

9.3 out of 10

Reporting:

9.0 out of 10

Customer Service:

8.7.0 out of 10
TOTAL RATING: 9.0 out of 10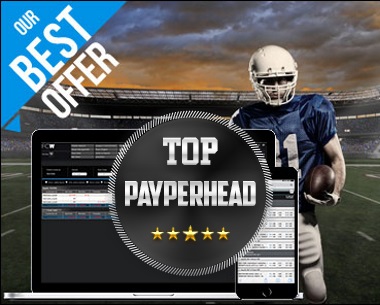 INFORMATION ABOUT TopPayPerHead.com PAY PER HEAD SERVICES
General Information
Inception: 2017
Software: DGS
Price: $4 and Up
Contact: info@Toppayperhead.com
Telephone: 1-888-623-5053
Website: www.toppayperhead.com
Location: Costa Rica

Private Toll-Free Number Available: yes
Private Website: Yes
Current Promotion: none
Types of Gambling Available
Sports Betting: yes
Live In-Game Betting: yes
Online Casino: Yes,
Racebook: yes
Live Casino: yes
Poker Room: no
Online Wagering Available: yes
Telephone Wagering Available: Yes
Mobile Platform Available: Yes
Player Bonuses Available: No
The TopPayPerHead Registration Process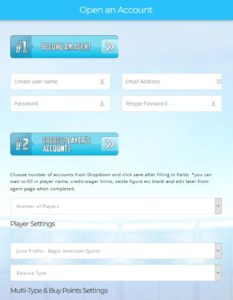 The TopPayPerHead.com Registration Process is fairly straightforward because it consists of a few questions and you are done. In addition, the process is fully automated which is great because there is no need to speak with a representative.
Unlike other Sportsbook Pay Per Head, TopPayPerHead.com asks a series of relevant questions in the registration form. This is because they ask specific questions about the type of sportsbook operation you intend on having.
In addition, you even get to choose a specific skin for your sportsbook website.  However, keep in mind that all skins are interchangeable because players can still login to website with a different skin.
Once you have clicked on the submit button, it only takes a few seconds for your account to be ready. On an interesting note, TopPayPerHead.com uses the same website for both players and bookie instead of a separate agent site.
TopPayPerHead.com Sportsbook Pay Per Head Review
The TopPayPerHead.com website is plain in a WordPress kind of way.  However, the biggest item that caught our eye was the big "$4 PPH, No Minimum, No Gimmicks!" tagline. Since most PPH companies charge $10 per player, this definitively caught our attention.
After doing a bit more probing, we found out that the $4 Per Player price did not include telephone wagering or Live Casino.  Despite the play on words, they still offer competitive prices for their services compared to most Pay Per Head companies. This is because most PPH offer similar packages at $10 and an additional fee for live casino and phone wagering.
TopPayPerHead.com Player and Agent Software Review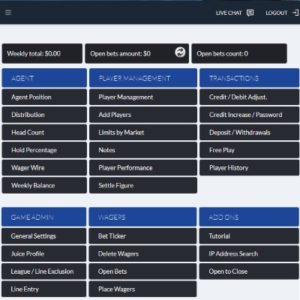 Once you login the agent backend, you will be met with an extensive agent management dashboard. We appreciated that their dashboard was neatly organized and really gave you a feel for the capabilities of their platform.
Managing your players can be as easy or as complicated as you want it to be.  This is because they offer more player options than most Pay Per Head Services. Their PPH software allows you to completely control your players and your sportsbook operation.  You get to control many aspects that other PPH only dream of like Vig management to Point buying.
In addition, you also control, teaser and parlay limits for your players which places them a notch above the competition.
Even though we really liked the flexibility and features of their software, we did notice a few bugs in it.  This is because once in a while, you will get an error message with no obvious error in the system.
The player betting interface was ok and nothing special to talk about.  Players will easily be able to place their bets because it is clean and easy to use.
Our Opinion and Recommendation
Overall, we like the TopPayPerHead.com PPH Service because it offers everything a bookie needs in order to be successful bookie. The one thing we did not like is that their $4 Per Head plan did not include phone wagering. Thus, in order to get these features which are a must for any modern gambling operation, you have to pay extra.
When you pay the extra price for these features, you end up paying around $10-$12 per head.  Thus, it places them in the just a bit higher than the average PPH category. If it was not for that, they would have made the #1 or #2 position in terms of best PPH Service.
If you are looking for a top PPH service, take a look at our list of the best Sportsbook Pay Per Head providers. These are the Highest rated services according to our Sportsbook Pay Per Head Reviews.