Bet McLean Extended Its Partnership with Linfield FC
Bet McLean extended its partnership with Linfield FC. Also, it cemented the two parties' 10-year business relationship with a new team shirt and shorts branding deal. It is the first time the team signed up for a branding deal with the sportsbook.
Bet McLean, a popular online betting platform and independent sportsbook in Northern Ireland, has decided to continue its fruitful ten-year partnership with Linfield FC. This famous Northern Irish professional soccer club competes in the Northern Ireland Football League Championship Irish Premiership.
As a memento of the deal, the Bet McLean logo will be printed on the sleeves of the first team shirts and the shorts worn by the players. According to SportsbookPayPerHead.com sources, there will also be four advertising trackside signs for the sportsbook in each of the Windsor Park stands used by the team.
Bet McLean Extended Its Partnership with Linfield FC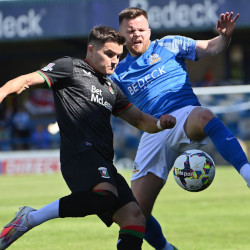 Roy McGivern, chairman of Linfield FC, made a statement on the decision, applauding the extended sponsorship arrangement with Bet McLean and expressing joy about the prospect of using their partnership next to Paul McLean and his staff for the balance of the 2023/24 season.
According to gambling software reviews and news sites, Linfield FC is Northern Ireland's most successful football club. Also, McGivern and the rest of the organization could not be happier with the deal's growth.
David Graham, Linfield's general manager, also praised working with Paul Mclean, saying that doing so "has been a pleasure" since Mclean joined Linfield at the beginning of the year. Graham said one of their conversations was about how they might get the most out of their collaboration.
Graham also used the opportunity to express their gratitude to a local firm with an excellent reputation for sponsoring the squad and providing four trackside signage. According to sportsbook pay per head reports, the general manager outlined how sponsorships are the principal mechanism for the club to secure and expand its commercial earnings.
Start a bookie business with 9DollarPerHead.com today!

Sportsbook Pay Per Head Providers
Average rating:
0 reviews