PPH101.com Sportsbook Pay Per Head Review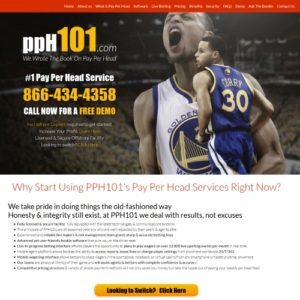 PPH101.com is not a known sportsbook pay per head provider as its website has only been around since 2016. However, their management team is made up of professional gamblers and bookies that have decades of experience in the business. After investigating their services, we will now give you the findings about our PPH101.com Sportsbook Pay Per Head Review.
One thing that sets this bookie pay per head apart from the rest is that they use proprietary sportsbook software. In a world where most sportsbook pay per head providers uses DGS or ASI, this is a nice achievement.  However, the question is whether their sports betting software has what it takes to create a great sportsbook.
In terms of security and infrastructure, PPH101 boasts having several measures to complement their Pay Per Head services. This is because they use redundant telephone and internet connections, industrial grade generators and preventive solutions against DDOS attacks.
INFORMATION ABOUT PPH101.COM PAY PER HEAD SERVICES
General Information
Inception: 2016
Software: Proprietary
Price: $15
Contact: sales@pph101.com
Telephone: 1-866-434-4358
Website: www.pph101.com
Location: Costa Rica

Private Toll-Free Number Available: yes
Private Website: Yes
Current Promotion: 1 Week Free Trial
Types of Gambling Available
Sports Betting: yes
Live In-Game Betting: yes
Online Casino: Yes,
Racebook: yes
Live Casino: yes
Poker Room: no
Online Wagering Available: yes
Telephone Wagering Available: Yes
Mobile Platform Available: Yes
Player Bonuses Available: Yes
The PPH101 Registration Process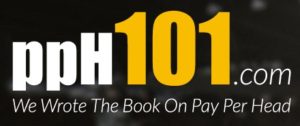 Once again, we come across a sportsbook pay per head companies that does not have an automatic registration process. In fact, they do not even have a registration form of any kind which is very unusual. Thus, in order to use their services you have to call their toll free number, answer a few questions and make your deposit.
They do have a good sales department that is very knowledgeable and can easily answer any questions about their product. In addition, the customer service is courteous, friendly and prompt without missing a beat. It's just a shame that you have to jump through a bunch of hoops in order to open an account with them.
However, after using their pay per head service, we can tell that they are doing this for a reason.  This is because this is not your average PPH service and the setup, while fast is more extensive. For those who want to be a bookie and want to try them out first, they have a demo available.  However, you call them or use the live chat in order to get access to it.
PPH101.com Sportsbook Pay Per Head Review
It seems like most pay per head bookies nowadays are using WordPress to make their website.  We mention this because the way to describe their website is by saying they are using a generic WordPress theme. Despite this, they do have a lot of information about the Sportsbook pay per head services they offer.
Even though they do not advertise the cost per player on their website, starting price is $15 per player.  Since this is business, it is possible to negotiate the price but it will depend on how many players you have. However, one thing is for sure and that is they price can only go down and not up.
Another thing in their favor is that you get what you pay.  Even though they are expensive in comparison to most Pay Per Head provider, it's all upfront.  Thus, it's a one price gets you everything kind of deal with hidden fees.
PPH101.com Player and Agent Software Review
Now that we know PPH101.com, let's take a look at their Agent Pay Per Head platform and sports betting software.  We have to say that our initial thought about their pay per head platform was not very good. This is because, the information on the dashboard is pretty hard to understand and figure out.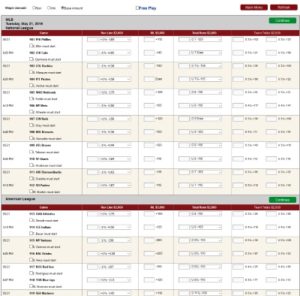 Honestly speaking, the labels for each option are difficult to decipher unless you have experience with various sportsbook software. In addition, the labels of each option do not describe very well what you can do.  Thus, it will take a lot of experimentation before you can appreciate the full extent of how great they are.
For example, the option "ticket writer" which is an ASI term for its odds management software.  However, this option only lets you change a bet after the line has gone off the board.  In addition, it is only available 5-10 minutes after the game goes off.
However, once you figure out the platform, you will see that they have a lot of player management options. From betting limits and gambling option management to setting free plays and alerts, they have a good product.
They have a nice selection of reports available that are useful in managing players.  One of the strongest aspects of their service is the ability to do some minor cosmetic changes to the template.
The Player gambling website is pretty ugly and generic. However, the player sports betting system interface is pretty good and fairly easy to use.
Our Opinion and Recommendation
PPH101.com has an impressive bookie pay per head platform that goes above that is ahead of its time. Furthermore, they have an outstanding customer service department that makes up for the generic look of its play website.
Basically, the $15 per player price is expensive but it is well worth it if you can afford it.  This is by far one of the best Pay Per Head Bookie provider we have seen in a long time. If the price is too much for you, then we recommend using PriceperPlayer.com.  This is because they are the best provider in the industry at 1/3 of the cost!


If you are looking for a top PPH service, take a look at our list of the best Sportsbook Pay Per Head providers. These are the Highest rated services according to our Sportsbook Pay Per Head Reviews.

PPH101
Average rating:
0 reviews